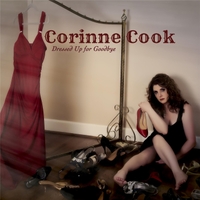 Dressed Up For Goodbye, released in 2015, is Corinne Cook's new album. It has got a dozen tracks which are full of spunk, crackle and pop.
The album starts off with "Little Miss Understanding" which has all the warmth and energy that one is looking for from a Corinne Cook record. The chord progressions go along loose and expansive all over as Corinne's voice hits a range of octaves from high to low in a matter of minutes;"Who" is a pop-country ballad that is done just right. I liked the lyrics and how Corinne imbues the words with soul through her voice. It's a precursor for the title track which is a standout single.
"Dressed Up For Goodbye" has all the markings of a bonafide classic. Everything comes together. The vocals soar & soothe, the riffs are high-energy & wrap you up and the chords are time right. The whole song is a little gem."He Loves Her Like Crazy" is another ballad straight from the heart. This one is one for the radio stations, with its catchy lyrics and Corinne's voice being seductively enchanting. Another solid single off the album.
"Dirty Little Secret" is a little weak in spots. I felt it lacked the energy of the songs that came before it. Overall, the lyrics and the vocals went well but the instrumentals were a little boring. "I don't" is the weakest track of the album for me. I have heard loads of country songs with the same riffs and even the vocals are uninspired. I was disappointed with the song because even Paul Scott making an appearance could not save it."Fall Apart"does not do much to bring the spirit up again. It tries too hard to sound like Faith Hill while Corinne really brings out the magic when she is herself.
"Turning Off the World" veers the album back to where it started. Corinne is being Corinne and we are all the more thankful for those wonderful vocals that can jump from one pitch to another without a miss. Lots of Karen Dalton vibes on this song. "Lord Have Mercy" is one of the last four songs and it's a bit predictable. One of the few wrong songs on the right album. It sounds more like gospel than country and doesn't go well thematically.
"Long Before Goodbye" is a sad ballad but hey, it's got hooks! I sunk my teeth right into the catchy tunes and it's got the energy of the title track too! "Cowboy" is a very to-the roots country ballad that is at times Karen Dalton and at times Joan Baez. It is a solid little penultimate track. The last track is "I Don't", an instrumental version of the piano –driven ballad with Paul Cook.It doesn't really end the album with perfection but I am waiting for more from Corinne Cook!
Dressed Up For Goodbye comes across a Joan Baez meets Karen Dalton in a Faith Hill album, if you can get that. It has its moments but also has its share of lows. Corinne seems to have come a long way since her debut but at this stage of her career it's a question of her either becoming progressively original and experimenting with her music or sticking to what she does best- ballads and songs about love and loss. However, with a talent like hers she has all the chops to veer off into a direction like Scott Walker too.
CD BABY: http://www.cdbaby.com/cd/corinnecook2
URL: http://www.corinnecook.com/
Overall rating: 7/10
by Justin Weston