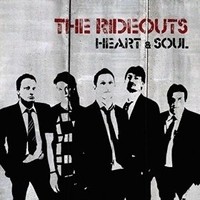 Here they come – the bold Italian mafia called The Rideouts with their third album Heart & Soul. Brazen, cool and provocative, – that's the mixture of the hot Italian blood, rock-n-roll and soul with some secret ingredients and spices. Shake well, it's going to be hot!
You don't really need to know much about this bunch of original musicians; – I don't, – just get free of all the binding prejudices and listen. You don't expect an Italian band to rock like The Beatles did? Well, probably, this is the right time for you to change your point of view.
The Rideouts definitely don't take life too seriously, they even have a track named Take It Easy. Their songs are full of irony and sense of humor, – not only the lyrics will give you this impression, but the manner of the vocals – which is of a man, who seems to not care about a thing at all – too; as well as the unbridled guitar riffs. Though they push quite serious issues – like brain wash by the mass media; social roles and corporate enslavement – in some songs, as well as they speak about personal concerns; it feels more like teasing, perky and full of satire. It doesn't leave a sour aftertaste. It is spicy instead. It tastes delicious.
The Rideouts play…not only music, they simply play. They get a kick out of what they do. Even if they cry and beg for help in a tune, they seem to indulge in that sweet sadness, tender melancholy and enjoy dwelling on it. They do it in such a gracious and elegant way! Yes, heartsore can be beautiful, if you approach it the right way.
You can clearly figure out the band's laid-back attitude from some of their lines: "I just feel so idle, I don't wanna make a move. I just wait, wait and see what the world's got in store for me". Entirely blase.
I won't be able to clearly identify, what genre The Rideouts work in – I can hear rock-n-roll, soul, funk, punk, pop and, god knows, what else! In their sound – they have their own unique style
There is something else that adds some flavor to the music of these guys, – it is their Italian accent, that seamlessly overslips in Max Scherbi, the singer's voice. This is ginger – one of the secret ingredients.
Though the band's definitely influenced by the 60's music, and the like signature dominates in their works; they still sound contemporary. They've got something intangible, something that makes them The Rideouts. That something is absolutely rock-n-roll and so sexy!
I am very pleased to realize that real rockers emerge in different parts of the world nowadays, not only in the United States and the Great Britain, like it used to be, – surely, it's the globalization to thank. Every now and then I hear of different talents from Japan, from India and now – from Italy. Well, maybe they always existed, and this is just our stereotypes, – we "can't put the blame on them for what's only in our heads".
SOUNDCLOUD: https://soundcloud.com/therideouts/sets/heart-soul
URL: http://www.therideouts.com/
Anastasia Shanueva