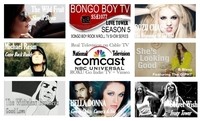 The Bongo Boy Rock N' Roll TV Show is proud to present the latest episode in their Rock N' Roll TV Show series, "LOVE TOWER", bringing the audience 7 talented independent artists in 1 special ½ hour TV show. This Bongo Boy TV produced episode premiered Tuesday, 15th March 2016 in Portland, OR on Channel 29 at 10:30 pm with rotation repeated for 2 weeks on all channels in the Bongo Boy TV National Region.
The Wild Fruit "Slow It Down" start things just right tapping into Americana's essence. With a raw garage rock revivalist sound they come through with great passion and fury. Everything is stripped down to the absolute basics giving the song a warm, lo-fi sound.
www.reverbnation.com/thewildfruit
Packed with a fiery spirit is Rozii Chaos's "The Beginning To The End". Sultry vocals lead the way along with a tight driving rhythm. At times the song recalls the best of early 90s alternative rockers like Hole. There is an edge with the sound that simply works wonders.
"Come Back Daddy" shows Michael Resin taking on a sensitive sound. Elegant in presentation and delivery, the song is full of longing. Melodies are light and airy. Sensitive and sweetness, there is a tenderness that ties the song together.
Stylish, smart and sophisticated is B. Bless ft. The Gipht's "She's Looking Good". Downright luxurious the groove is infectious. Absolutely lush the song is pristine and perfect. Lyrically clever the song's narrative sensibility helps give it an emotional core.
The Whitaker Brother "Good Love" taps into a classic rock sound. Absolutely energetic they show off their impressive chops. Brilliant at times their impressive yet restrained guitar work gives it a dramatic grandeur.
http://www.thewhitakerbrothers.com/
Bubbly and catchy is the neon-hued joy of "Gimme Lights, Camera, Action" by Hella Donna featuring None Like Joshua. With a fascinating glam rock take the song simply refuses to let up, as the rhythm grows ever more insistent. Nearly cinematic in scope the sound soars towards the sky as a dreamy quality is infused within the sound.
Ending things on a high note is the rave up of Secret Wish's "Ivory Tower". A 80s nostalgia permeates the song. The swirl of synthesizers, honeyed vocals, and relentless percussion give the song a certain physicality.
http://www.secretwishmusic.com/
The Bongo Boy Rock N' Roll TV Show is produced by Grammy members Gar Francis and Monique Grimme and is fully funded by sponsorships from all the indie musicians and their affiliations in each episode and Bongo Boy Records. Bongo Boy TV produces and distributes The Bongo Boy Rock N' Roll TV Show which puts the spotlight on indie videos worldwide. All TV episodes are available on their online channel https://vimeo.com/bongoboy
Bongo Boy TV is Real Television on 54 channels across the USA with 2 new regions—New York City and National. Also available on GO INDIE TV Roku Channel for free on demand.
Web Site: https://www.bongoboytv.com
Email:submit@bongoboytv.com
Posted by Beach Sloth