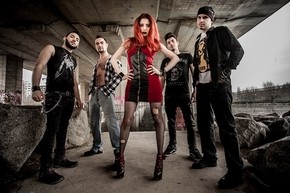 "Cherry Boobs", the new video from hard rock/metal band ROCKSTAR FRAME, has been exclusively premiered on Revolver Magazine last Friday and can now be seen below.
The clip was filmed in Milan Italy, at Rock 'N' Roll Club by Elena Mazzei (Diesel, Swarowsky).
"Cherry Boobs" is the second single from ROCKSTAR FRAME's debut album "Rock 'N' Roll Mafia" which is now available worldwide via Musicarchy Media.
Produced by Max Klein, "Rock 'N' Roll Mafia" is a massive hard rock/metal album which already granted ROCKSTAR FRAME the definition of "New Guns 'N' Roses with killer female vocals" in their homeland, Italy. Certainly the young quintet takes inspiration from the likes of Guns 'N' Roses, Aerosmith, Alter Bridge, but their sound has something unique to it.