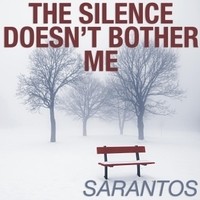 Brash, bold, and beautiful Sarantos sings a song of defiance on "The Silence Doesn't Bother Me". Meant to be played as loud as possible the song is one of celebration. Lyrically the song explores not having to conform to any expectations. The message is one of rising above the confines of what may be socially acceptable. Elegantly arranged Sarantos gives the song an EDM flavor, from the woozy sound of the bass to the heavy hit of the snare, of the handclap, of all of his small yet significant pieces of percussion. Melodies glisten in the hazy sound, as Sarantos never loses focus on the song's backbone, the melody that ties all of it together.
Audio:
https://soundcloud.com/sarantos-melogia/the-silence-doesnt-bother-me
Video:
https://www.youtube.com/watch?v=DGylXDpytRs
Wasting absolutely no time Sarantos sings with great power. His words are punctuated by an absolutely dominating rhythm. As the song slowly unfurls its many layers became all engrossing. Everything is woven together to create a vast tapestry of sound. The soaring guitars and swirling synthesizers create a sense of optimism that feels perfect attuned to the sense of purpose of the lyrics. Carefully crafted Sarantos sings above it all with great power. By letting the smallest elements of the sound evolve naturally and gradually Sarantos creates a virtual ecosystem of sound. Towards the song's finale Sarantos increases the volume and intensity.
"The Silence Doesn't Bother Me" shows Sarantos creating a piece of powerful pop, one with a message that resonates loud and clear.
Posted by Beach Sloth