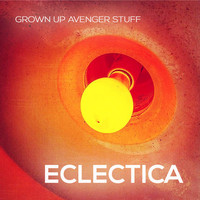 Grown Up Avenger Stuff is a four piece hailing from North Carolina. Any guitar music coming from south of the Mason-Dixon line conjures visions of denim clad hat-wearing longhairs, but a plethora of quality hard rock and metal bands have emerged from Dixieland over the last three decades giving lie to cliche. Their second album, Eclectica, has ten tracks and clocks in at a hair over thirty minutes in its entirety. Focused songwriting and lack of any self-indulgence backs up this evidence of a band that never wastes their listeners' time.
"Brother" opens with impressively dissonant textures quickly solidifying into sledgehammer riffing. Deirdre Kroener has pipes to match their amplified stomp, but moreover, her bloodshot-eyed white-knuckle intensity has a memorably soulful edge cutting through the clutter. The lyrics have a surprising literate quality while remaining opaque enough to remain suggestive. "Wasting the Light", the album's first single, pulls back on the heavy musical artillery while still maintaining its edge. This is dark power pop with an instantly identifiable vocal presence. It is remarkable that, in an age of high gloss prefabricated female singers, Kroener isn't shy about pushing her voice past its limits for added emotional effect and deftly walks the line between hysteria and heartfelt without ever falling over the edge. The ominous bass intro to "Love Please" lingers in the background, building tension through the verses, before exploding on the choruses. Grown Up Avenger Stuff success here thanks to a commanding grip of dynamics and nowhere is that better illustrated than by their imaginative transitions, particularly when they move from a comparatively gentle bridge into a final thunderous reprise.
The band hits a hard, almost subterranean groove on "Vision" and their uptempo romping never spins out of control. Everything in a song like this hinges on the rhythm section and they deliver a near virtuosic performance. Bassist Hunter Thomsen and his brother drummer Tyler Thomsen play with relaxed confidence, but also with lockstep precision one typically hears from older musical teams. "Game" starts off with bulldozer powered riffing before shifting into sparser verses where Kroener takes the spotlight once again. This is a band of singular talents complementing each other in a greater whole, but Kroener stands out for her vocal synthesis of early Patti Smith with her bluesy shred. "Tell Me" erupts from the speakers like a battering ram and its minimalist, pummeling instrumental attack lays an ideal foundation for an enraged, quasi-punk blast.
"What You Are" lightens the sonic mood considerably. Some stylistic constants, like the band's interest in dissonant guitar textures, hold true and contrasts well with the song's "brighter" feel. Guitarist John Thomsen is a six-string polymath able to summon a surprising amount of color from a relatively limited approach; this isn't deriding the song's ambitions at all. It takes an enormous amount of skill and discernment for a songwriter to fuse the abrasive and melodic together in a captivating way. Eclectica is a strong sophomore effort for this rising band and Grown Up Avenger Stuff's unquestionable work ethic will likely parlay its quality into increased exposure.
4/5 Stars.
URL: http://grownupavengerstuff.com/
I-TUNES: https://itunes.apple.com/us/artist/grown-up-avenger-stuff/id385980280
Jason Hillenburg