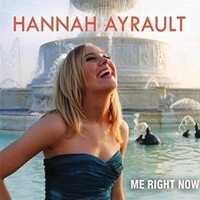 Hannah Ayrault, like many young men and women before and after her, has planted her flag in Music City U.S.A., Nashville Tennessee, in hopes of finding fame and fortune. It's a sign of her confidence that she makes such a move at nineteen years old and the five songs on her debut EP, Me Right Now, reflects that confidence. The five song collection teeters between two appealing opposites – lush, orchestrated pop balladry and acoustic based pop country excursions. Strong harmonies are an across the board constant and Ayrault carries the tracks with enormous sensitivity. The lyrical content gives her a lot to work with – there's rich plain-spoken poetry in her words that speaks to common experiences.
The EP's title cut opens things. It's an eloquent expression of crossing the shadow line from youth into adult life when childhood friends fall away and we find ourselves in an unfamiliar world. "Me Right Now" definitely feels like a statement about where Ayrault sees herself at a critical point in her life, but she never plays it in a heavy-handed way. Acoustic guitar enters the picture on "Mine", but Ayrault spices up a potentially standard approach with a danceable beat and distinctly modern edge. "Stay" has a similar acoustic underpinning but turns in a different direction than the preceding song. This is perhaps the EP's straightest ballad and peaks with a moving chorus. The songs through the first half of the release are distinguished by their solid songwriting fundamentals and a strong ethereal quality.
The EP's final songs are piano-dominated affairs exhibiting Ayrault's penchant for memorable choruses. "New York I Love You" is a thoughtful, deeply felt paean to the Big Apple and, in some ways, a surprising throwback to an older style of popular songwriting scarcely in evidence today. Ayrault delivers the material with considerable gusto here, as elsewhere, and the swelling accompaniment combines with the track's stately tempo to give it a bit of epic grandeur. The final song continues illustrating her cinematic skills as a songwriter. "So Close So Far" impresses itself on the listener as a very personal song, like the other material on Me Right Now, and stronger piano playing helps reinforce that intimacy. Her phrasing skills as a singer reach far beyond the capabilities of most young performers and strike a remarkable balance between many emotions.
Me Right Now is a sophisticated and clear-eyed debut effort. Ayrault's voice is the focal point, but it's obvious that she and her collaborators took great care in crafting the appropriate backing for her songs. It's fascinating to hear how, even in this finished state, listeners can readily discern the original impulse leading Ayrault to pursue the track's final form. The EP thankfully avoids increasingly tired tropes and poses in favor of unfettered vulnerability – Hannah Ayrault isn't a self-indulgent songwriter and performs material with themes instantly resonate to anyone over the age of fifteen. We'll be hearing more from her, but Me Right Now is a promising start for her career.
I-TUNES: https://itunes.apple.com/us/album/me-right-now-ep/id1047317281
FACEBOOK: https://www.facebook.com/hannahayraultmusic/
9 out of 10 stars.
Jason Hillenburg