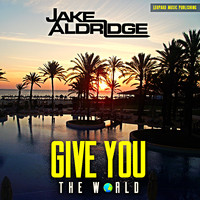 Not too much debate about the world-region you'd find Jake Aldridge in after hearing the infamous UK-accent as he starts into the first verse of his brand-new single "Give You The World." Not really sure if even I could put my finger on exactly what it is about Hip-Hop/Rap-music that tends to come from all that way far away across the water to us here in Canada…but I've always found the sound & styles of these genres when based in the UK to be truly inviting to my own ears personally.
Jake Aldridge would be a solid example of what's happening on the lighter-side of Hip-Hop. Not saying the lighter-side of Rap – that IS Hip-Hop – nope…I meant what I said; even though Hip-Hop tends to be a fairly light-hearted genre to begin with…this new song "Give You The World" would still reflect the lighter-side of it. And I'll say a couple things about that straight-away…first being that – just because you can rhyme/rap-it-up…there's no rule written anywhere that says you have to be 'hardcore' about it all. Secondly…when you hear "Give You The World," whether you think it comes out perfectly or not – the intentions are completely honourable…and when you think about that – doesn't the world need more songs & artists like this right now?
Jake Aldridge – "Give You The World"
https://www.youtube.com/watch?v=y3wvRgi9__s
Because I'll tell you this…the sincerity is there. After everything I've read and seen myself – I can certainly speak to the authenticity of Jake's efforts in the mix of Hip-Hop/R&B/Pop music he makes – which as we all know, those genres can be particularly tough to communicate emotion convincingly in amongst all the flash & the catchy-hooks. But right from the first thing I read about the video for "Give You The World" – I was already interested; it read: "27 year old Indie Artist Jake Aldridge, saved up his pennies and flew to Spain to have his new music video filmed abroad." I don't know that it would only take a word-guy like myself to catch onto this…but I think there's a key part of his personality on display right there that translates right from the words you read to the music you'll hear. It's cool to go to Spain…but in my opinion…the humble expression of 'saved up his pennies' is such an indication of a grounded-artist…one that's not afraid to be REAL with us makes that whole sentence that much better. Continuing to read into Jake…you learn he's been writing, creating and recording for about a decade's worth of time…and that many of these songs tell a semi-autobiographical tale or act as audible-pieces of the man's diary…things he'll explain in the write-ups on his social media. Again – I think it's honourable to put this much of yourself into your work, music and career…Jake's completely got the right attitude, enthusiasm and approach; and after a decade of remaining unsigned – it's clear he does everything he does purely because he truly loves to do it.
At the VERY least…you can definitely see he had a great trip to Spain – just have a look at the video below!
He's done well though…"Give You The World" doesn't have any major or even minor-flaws to it. Whether the light & bright sounds of the mix of Pop/Hip-Hop of this single will resonate with you is really just a matter of personal taste. I think for people like myself who are slightly just on the outside of genres like these for the most-part…an act like Styrofoam is really not all that far away from something like this…that's personally how I connected to what Jake Aldridge is doing. His voice reminded me of the sweetened-sound of the vocals you get on the happier tunes from Styrofoam…the synth-piano-led music is also not all that far of a stretch from some of the more uplifting songs he's made over the years. But of course, we're talking about the chorus-hook really when it comes to this comparison…Styrofoam hasn't even been much of, if ever, a rapper as far as I know. So in that sense…what Jake is doing is still a fairly new sound…at least to me and more than likely to you as well. Like newspapers, television-shows or anything media-related…you've probably noticed that positive-intentions, even with the best execution are often still relegated to the underground; the click-bait and negatives make their way to the top of our screens and thoughts all the time, but for some reason, we have to dig for songs like "Give You The World." Or…even though I'm not here to review it…take a look at "Just Believe" if you need further proof of just what a champion Jake really is – he's clearly a fantastic human-being with the best of intentions on display in every move he makes. Big-ups to that…big-respect to you my man!
You could definitely argue that the rapped-out verse comes out slightly more confident and secure than the hook itself does…I can hear that; but I don't hear anything so far off the mark that it doesn't work. "Give You The World" will remind you that Jake is here to rap for certain through the smooth-flow of the verse, but that he's also certainly capable of writing/delivering a pop-hook to the chorus without having to outsource to some other ace-candidate out there. He's a one-man unit…Jake can clearly get it done from the beginning to the end all on his own – which makes the magic of his invitational-tone & welcoming-sound even more special; there's a real feeling of connection and community to the music he makes.
Find out more from his official page at: http://www.jakealdridge.com
Jer@SBS – http://sleepingbagstudios.ca