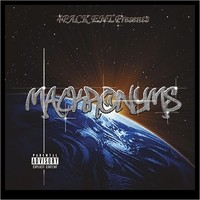 "4PACK ENT. Presents. MACKronyms" is a collection delivered with a sense of urgency. With lyrics that describe in vivid detail, the songs each possess their own unique narrative. The narratives are wonderful with a balance of brash boastful raps alongside those that delve deep into the problems faced by millions across America. Incredible production values permeate every song with crisp percussion and infectious grooves.
Listening Links:
Spotify
https://play.spotify.com/album/4uAdFudeDrScuLkZDLLtwX
Tidal
http://listen.tidal.com/track/49557645
Opening things up with high energy is "Itz a Rap Bruh" whose sense of playfulness dominates the song. Things mellow out on the mellow dreamy work of "Gon Give It up". Samples are distorted and stretched into nightmarish noises on the pop culture peppered "O Yea". Remarkably catchy Chilly Palmer does a particularly fine job tying together elements of both high and low culture. By far the highlight of the collection is the impeccable "Pray4Peace". Starting off with an intense rhythm the song's theme is one that has become painfully familiar. America's shameful treatment of its own citizenry through ruthless militarized law enforcement is one that has shown itself over and over again with stunning regularity, with little done to resolve this obvious well-documented problem. Absolutely perfectly delivered the song has a sense of despair as there appears to be no end in sight even as the lyrics demand it. Bringing things to a close is the leisurely luxurious sound of "Rap 4 Da Skreets" where the song stretches out creating a comforting sound against a hard portrait of reality.
Clever, concise, and with real bite, MACKronyms!
Official Website:
http://4packent.wix.com/mackronyms
EPK
http://artistecard.com/MACKronyms
Posted by Beach Sloth