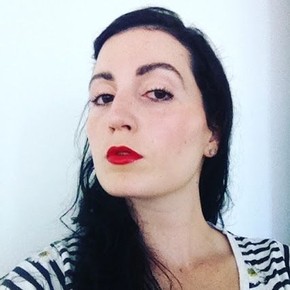 Monique Angele is a Canadian singer-songwriter currently based in Australia. This classically trained solo pianist and vocalist has one release to date; a six-track self-titled debut EP that came out in January of 2014. However, by the end of this month, Angele plans to release her second EP titled "Answers", which will be available February 27th. In anticipation of the new material, Angele has collaborated with photographer and producer of her album, Shawn Burgess, to create a music video for the EP's title track, "Answers".
Watch the Video: The music video is available on YouTube now at Youtube.com/watch?v=TouNiT8eUMI and was shot on the east coast of Australia.
Monique Angele's voice is stunning. She is truly a developed vocal talent capable of huge notes, enchanting vibrato, and sophisticated musical phrasing. Angele has a massive vocal presence full of warmth, depth, and clarity that is augmented by intricate harmonies. The harmonies and overall delivery of the lyrics on this track have a certain degree of delicate airiness and lofty conviction to them that make Angele's professional vocal training apparent. Her performance and overall sound is very traditional and classical, but there are certain phrases and runs, not to mention the general direction of the lyrical content, that suggest stylings much closer to sophisticated pop music. As a relative comparison, Angele seems to have a voice that is a cross between Amy Lee from Evanescence and Barbra Streisand. Of course, Angele's instrumentation and lyrical content is far from the genre of rock group Evanescence, but the basic manner in which Angele adapts classical vocals to contemporary music is an aspect of commonality listeners might identify with. The instrumentation and vocal presence of this single, however, is also very similar to something listeners may expect from a solo artist like Barbra Streisand. The song consists primarily of a basic piano theme that is repeated throughout the five and a half minute track; instrumentation is kept quite sparing, only gradually peaking toward the middle of the song and then returning to a lone piano. The music video is interesting in its composition, mainly focusing on nature and coastal scenes, eventually shifting to an urban setting while making subtle suggestions about environmental responsibility and pollution. The images seem to connect multiple facets of life together and although there is no concrete narrative to the video, the creativity of shots and themes compliment the general mood of the music well.
Some listeners may conclude the track wishing that instrumentation was implemented on a grander scale. The main piano melody accommodates the vocal performance decently, but the peak in this track is not very convincing. The music in this single should have been more orchestral in order to adequately complement and stand up to the massive vocal presence of Monique Angele. Most of the time, only a single piano is left to accompany Angele. This is, in many cases, perfectly suitable, but when compared to the grand nature of the images in the video and the lofty vocal performance, it seemed as if the instrumentation on this single fell flat.
Monique Angele has an incredible voice and has written an excellent single. The music video was done very well by an experienced photographer, and while lacking a concrete narrative, was still entertaining and captivating. The "Answers" single is definitely a positive start to Angele's second EP of original material.