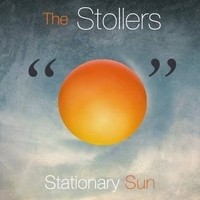 There's no use enumerating the long history of successful sibling musical combinations. The list is long. Thankfully, however, The Stollers leave out melodramatic and often violent interactions characterizing such acts for so long that it's practically passé. Brad and Lesley Stoller are musical collaborators stretching back decades and through various incarnations, but their album Stationary Sun marks the first occasion they have professionally recorded the fruits of their songwriting partnership. Perhaps it will strike some as a late start in life. However, listeners who value top shelf songwriting with a vast, implicit understanding of tradition and a strong individualistic slant will be bowled over by how much lost time The Stollers make up over this twelve-song collection.
A brief brass fanfare opens "Into the Brand New Day" before seamlessly segueing into midtempo acoustic fare. There are a variety of musical ingredients adding flavor to the mix – harmonica, recurring brass fills, understated lead guitar licks, and even a touch of organ. The center, however, is the unadorned poetry of the song's lyrics and the light touch that the vocal brings to the track. In the hands of lesser talents, the text might strike listeners as a parade of clichés ripped from some primer on writing hopeful songs. Instead, The Stollers treat it akin to grateful prayer. "Loredana" has a slinky groove and a gentle swing luring you in from the first bar. The lyrical content plays off a popular trope – the mysterious, mystical Muse, available only in glimpses, but forever enchanting the narrator. They pepper their songwriting with a number of subtle tempo shifts accentuating a strong jazzy feel. "You Can Come Home (With Me)" is a beautifully wrought ballad crossing sophisticated country music textures, blues changes, a light R&B influence, and another exquisitely understated vocal. Such aching vulnerability and empathy is rare in our modern musical landscape.
There's a fiery, innovative edge in "Culture War" that marries funk, R&B, and blues elements with supreme confidence. A darkly comic, slightly unhinged vocal pushes against the musical virtuosity and creates tension to help the song stand out further as one of the album's best efforts. "Between the Sun and the Moon" brings the Stollers back to solidly folk territory, but they can't resist imbuing the music with a lightly orchestrated quality. Their songwriting burns brightest when they are mixing different instrumental voices in unexpected ways and weaving together with impressive inevitability. Many of these songs sound written long before the Stollers ever sat down and committed their ideas to paper. Stationary Sun's penultimate song "The Two Julians" reveals another impressive side of The Stollers' songwriting talents. The songwriting never belabors the characterizations, but instead sketches them out with a novelist's eye for significant detail. It bubbles with musical inventiveness and likewise illustrates deeper levels to their songwriting imagination. The final song, "Water Wheel", will surprise listeners. It's rather brave to end the album with an instrumental, but The Stollers have written a piece for piano alone that moves with such elegant coherence, few will be troubled accepting this is as a conclusion. Stationary Sun is an extraordinary work remarkable for its daring, breadth, and vision.
FACEBOOK: https://www.facebook.com/TheStollers/
5/5 Stars.
Jason Hillenburg