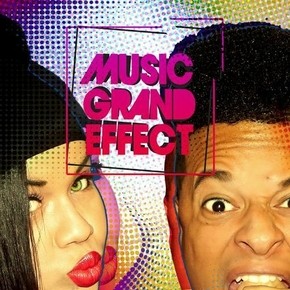 Hello there to all my music loving people of this great planet. It is so nice to see you all. So we have so much going on lets get it on in here. In legal news, The American Society of Composers, Authors and Publishers (ASCAP) announced that it has filed nine separate copyright infringement actions against bars and restaurants nationwide, arising out of the unauthorized public performance of its members' copyrighted musical works. You gotta to pay to play the music. In other news, Universal Music Group (UMG), the world's leading music company, and SoundCloud, the world's largest community of music and audio creators with 175 million monthly listeners, announced they have reached an agreement that creates a host of new creative, commercial and promotional opportunities for UMG's artists. I love that these two parties are working together instead of litigation. So today we have an amazing group from south Florida by the name Music Grand Effect. The duo of Sujo and Syrus have been together for years and have put out high energy & contagious songs that you cannot refuse. So today we have Music Grand Effect here to speak on 2016 so far, the smash single "I Choose", their business venture Live Music Invasion, and so much more!
Stoli: Where are we talking from today and how is your week going so far?
Music Grand Effect: We are speaking in Miami, fl are week is good getting ready for some upcoming shows we are going to be performing.
Stoli: How has 2016 been so far and what are some music goals for the year?
Music Grand Effect: So far it's been great we done our first show like a week ago,and our music goals now we are on slope mag our single "I Choose" is getting radio play for 2 weeks now, an our goals is tour, keep building our fan base, and entertain our fans with good music.
Stoli: Offer us a brief history how Syrus + Sujo came together and decided to create Music Grand Effect?
Music Grand Effect: We met at a recording studio sujo was there recording and syrus was invited as a guest, by a friend and we hit off as pals and the rest is history.
Stoli: Growing up how much did music play in your homes and how have your family supported your music passions?
Music Grand Effect: Well sujo parents we're radio announcers and syrus dad was a musician and growing up he saw his family do music.
Stoli: Coming up what 1-2 artists did you listen to and have inspired you?
Music Grand Effect: Growing up a few Artists that inspired us were, Bone thugs in harmony, Bob Marley, Ice Cube, Snoop Dog, The Black Eyed Peas, and the Spanish genra Juan Luis Guerra.
Stoli: Offer us a glimpse into where you guys go to work and create music and what makes your musical bond work so well?
Music Grand Effect: We usually start of at our home, typically Syrus gets a beat or Sujo comes out with a hook idea or theme, then we come together and complete the record. Then we rehearse and make sure the melody and composition are flowing. We get into the studio record vocals and get it mix and master and then get feed backs from the public, So far it's been good.
Stoli: Do you guys hang out besides the music and what other hobbies or passions do you enjoy?
Music Grand Effect: Yes we do we love hanging out meeting new people, on our free time we love doing some type of activities like, volleyball, basketball, football, tennis, and swimming. And or going out for sushi.
Stoli: I love your song "I Choose." Offer us background into what that song means to you and what makes it so special – https://www.youtube.com/watch?v=RTdEIhN43LM?
Music Grand Effect: So as you know coming as an artist we go through many struggles and obstacles, and sometimes it feels like the only that could possibly understand is your teammate. So "I Choose" is kind of like telling your partner or teamate this is destiny and that "your stage is my stage my way is your way" and that no matter what we been through we have love for each other.
Stoli: You guys do a lot of shows in south Florida thru Live Music Invasion. Offer us how that works and how does that tie into Music Grand Effect?
Music Grand Effect: Well Live Music Invasion is if you want to say is our Indie label, but we done a fest under that name as well, to give back to the community and homeless as well.
Stoli: What are your thoughts on streaming music and how much do you think platforms like Spotify, Panodra, AmazonPrime, etc should pay artists per stream?
Music Grand Effect: Well I think each platforms has it's own way of paying artist we just want to be part of something good and get paid for our music plays, I think sometimes Indie artist should get paid royalties regardless.
Stoli: For someone new to Music Grand Effect, why should they take time to give you a listen or 2?
Music Grand Effect: When we get a new fan we try to give them good music, and make sure we try to inspire them.
Stoli: What is coming up for Music Grand Effect and where you @ online?
Music Grand Effect: Our album LP titled (I Choose) will be dropping in the summer time of 2016 between July-August. And a new music video is in the works release date, is not schedule but early in the year. Stay updated on Music Grand Effect, by looking us up on YouTube.com, Reverbnation.com, Instagram, Twitter,Facebook and Google us.