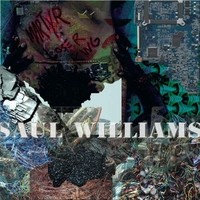 Saul Williams is bringing a new sound to hip-hop with his electric beats and chilling sound. His recent self produced album MartyrLoserKing shows Williams extreme close eye for technique and perfection. Williams is definitely someone to watch out for, MartyrLoserKing delivers a form of hip-hop, trap, and electronica that he has conjured up into his own style that is completely original. On top of bringing a completely original sound Williams is also delivering meaningful lyrics, he is globally known for his poetry and writing. This project that Williams drummed up was produced between many countries and cities including; Senegal, Reunion Island, Paris, Haiti, New Orleans, and New York.
"Horn Of The Clock-Bike"
https://www.youtube.com/watch?v=G3x6pxpwd_w
In Williams track Down for Some Ignorance, he gives his own social commentary with lyrics like; "Guns over peace, I'm down for some ignorance." Williams is not only creating music he is creating a movement. Speaking out on social injustice and the struggle for power that is going on throughout the world. Speaking out about the government in many of his songs like The Bear/Coltan as Cotton where he repeats throughout the song; "when pain is the government." Making this album more than just an artistic masterpiece but also a revolutionary masterpiece that has many messages throughout that need to be heard.
Williams tracks have some what of a Kid Cudi feel to them, but make no mistake that this is all Saul Williams. There is something to be said when an artist's music is played and there is no question of who it is. With an industry where all the music being produced recently all sounds the same and meshes together, Williams is not afraid to stand out and do what inspires him. Williams is bringing a new era of music to the industry and I can not wait to see what he comes up with next. This album is a must download, Saul Williams is history in the making.
Jake St. Jean – stjeanja@my.easternct.edu