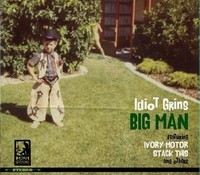 Idiot Grins offers the best of country and soul on the triumphant "Big Man". From the incredible horn section to John Hansen's powerful vocals, the entire album brims with joy and optimism. "Big Man" swings triumphantly with the colorful work of Michael Conner on keyboards and Randy Strauss on guitar. Anchoring the sound is the power of the rhythm section, with Evan Eustis on bass and Michael Melgoza's precise work on drums.
Stream the single "Poppy Piss":
https://soundcloud.com/johnheehaw/idiot-grins-poppy-piss
"How to Get To (Baltimore)" opens the album off on a strong note with an infectious melody leading the way. John Hansen's carefully crafted lyrics is akin to a short story guiding the way. Tender in tone is the sweetness of the title track "Big Man". Full of love the song gleams with happiness. Irresistibly giddy is the fast-paced organ-lead work of "Stack This". Going for dreamier textures is the mellowed out groove of "Snuggy Doo". By far the highlight of the album the song positively shimmers with the organ and saxophone working in unison. Quieter with its approach is the sprawling sound of "One Reason". A nice country twang is embedded within the playful work of "Ovaltang" with the Randy Strauss's guitar a particular joy. Ending things on a reflective note is the languid tempo of "Sour Man".
An absolute joy of an album, "Big Man" shows Idiot Grins reaching the same sort of impressive heights of those classics, of Otis Redding and Booker T and the MG's.
https://www.facebook.com/idiotgrins/
Posted by Beach Sloth