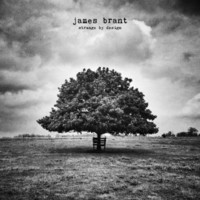 James Brant create emotive chamber pop on the meticulous "Strange By Design". With attention to detail James Brant captures it all from the warm sound of the piano to the taut guitar work, he covers it all. Tying these elements together is is penchant for earnest vocals and articulate lyricism. Like small stories, these songs positively glow with life.
Listen to the full album here:
https://soundcloud.com/jamesbrantmusic/sets/strange-by-design-full-songs
After the atmospheric opening interlude of "A Tone, A Phrase" things begin with the powerful "Knew Myself". On "Knew Myself" James Brant takes on a tactile approach with every detail glistening from the delicate drumming to the affectionate sound of the piano. "Prima" moves things into a more country-tinged approach, right down to the banjo that helps to end the piece. Light and airy the careful work of "Rain" works wonders with James Brant's impassioned vocal delivery. Hushed and stripped down "Know You" has a small intimate feeling to it. As the song slowly comes into bloom it is greater than the sum of its parts with the precise brush work a particularly nice touch. Languid in tempo "Time + Space" harks upon the unknown as the song delves into surreal imagery with the intermingling of piano and banjo. With a direct approach "Stranger In My Skin" opts for a crystal clear arrangement showcasing James Brant's patient persistent guitar playing. Ending things on a grandiose note is the sprawling ambitious work of "Fell Into Your Past".
Clever, concise and clear James Brant's "Strange By Design" is a little treasure.
Posted by Beach Sloth