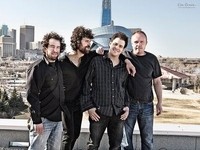 The Mailman's Children (TMC), is a Canadian-American rock band, stationed out of both Winnipeg, Manitoba, Canada and Helena, MT, USA. Front man Eric Labossiere resides in Helena while the rest of the boys live in Winnipeg. The Mailman's Children bring a unique brand of acoustic-electric rock to the table. Known for smooth, passionate vocals, driving bass and drums, sonic guitar interplay and thought-provoking lyrics, The Mailman's Children are visionaries with a fresh sound who somehow incorporate memorable hints of the 80s and 90s.
One year after the birth of TMC in 2000, songwriter and lead vocalist Labossiere had recruited the musician line-up that remains to this day: Joel Couture (Joe C) on bass, Joel Perreault (Joe P) on lead electric guitar and backing vocals, and Ivan Burke on drums. Eddie Vesely recorded drums for the band's previous 2 studio efforts.
They've done numerous TV and radio appearances, and toured much of North America. Capable of turning on their rock show or falling back on their acoustic charm, they've played with a variety of acts over the years to include Wide Mouth Mason, The Northern Pikes, Mark Reeves, Sass Jordan, Alannah Myles, Son of Dave (Ben Darvill of The Crash Test Dummies), Roller, Greg MacPherson, Pushing Daisies, Keith and Renee, Sinclair and many more. This is a review of the official video for the track "Ride In Your Mind" from "The Spiders We Eat" EP, released in 2015.
I like The Mailman's Children. They're a talented bunch and this official video is for one of their songs from their 2015 EP which I also reviewed.
It's completely a studio/live performance to depict their playing atmosphere. The track itself must also be described to fully wrap your head around it. The opening guitar lines set things up swiftly and the ball is rolling. Off to a place they go which is a ride of sorts, as the title suggests. With myself having the advantage of already knowing this song I can still say without any bias that a video helps all the more because although this is my cup of tea it might not be the next reviewers. I'll finish that by going into why, as it does have some pedestrian factors but I always rate that down to being genre specifically called for. I'm just aware that one person's meat is the others poison, to be fairly critical with any points potentially taken away, which I do not on this piece.
The lyrics are fantastic and vocally well-delivered, which is hard not to focus on, although the beauty is matched by every musician in the band for a perfect balance. They're seamless players together that way and watching them play music is just as cool as listening. It also helps that knowing this band, all of their music is top notch. They just need more exposure and it seems they're getting it, so I think they can go far. And the gear they use is also very cool and helps the video pop. And if anything is lacking it would be the pace of the song, but that is down to the listener, so again well-played on their part.
They're not a hundred mile an hour band, rather the opposite, especially here where you get a glimpse of their subtlety but also sense their intensity. But relationship songs require that and all to be found on this track. The video is by Nigel Jones, to credit a good producer. But if I were to complain it would have to just be because I want more. And I think that's what today's consumer, wants anyway, to the point where pressure can even stunt a recording. But not here, as they rise to that challenge and succeed.
The view of the room is perfect for the mood of the song, with pastel colors and vintage light fixtures, windows, etc. You really get the pain loss out of that combined with the music, as it soothes all the way. And the vocal harmonies are extremely subtle but highly effective. So, describing the track itself is just as important as the visuals. It's just enhanced with their visual presence. It's obvious this band has quite a sense of humor with a name like theirs, but on this song they're all serious. But it's okay the blend seriousness with playfulness till the cows come home, so a little never hurt either. Especially for a rock steeped band with acoustic factors.
I don't usually review videos, so it's a challenge to carry on about over a four minute tune, even with the difference of visuals, but The Mailman's Children balance their chops well, and I actually viewed it more than five times before opining about it. I think people will love this band as they continue to widen their audience, and being from Helena, MT as one of their bases, they certainly have their circulation work cut out for them. I'm familiar with Helena and its music scene.
If you're looking for a soothing but high quality video, "Ride In Your Mind" is just the cool trip. They sound just like a dream.
http://www.themailmanschildren.com/
5/5
Larry Toering