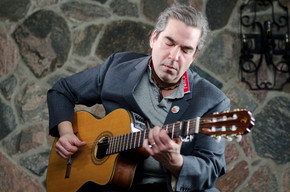 Oh man I am a bit nostalgic today as we leave 2015 and enter 2016. I must say that 2015 was full of great artists/bands and music and my resolution is to keep it going into 2016. Anyone in the industry knows that from Christmas to New Years it is R&R time to charge the musical batteries. We do have some music news to close out the year before we get to Ed Roman such as Support Link (http://support.link) is a new service dedicated to music artists and content creators who aim to raise funds for their projects or helping charities. With Support Link, artists can create a dedicated "EPK-like" web page where their fans are invited to donate any amount (starting from 1$) for supporting them, help in their projects and develop their artistry. In other newsx I found this interesting that an Eventbrite survey of the UK public's favourite local events suggests that mobile/in-app tickets are considerably more popular than they are prevalent. Just 4.82% of respondents received mobile/in-app tickets for the last music event that they went to, while 19.47% of respondents said they would rather have them, rising to 20.05% amongst 30-44yr olds and 21.51% amongst 18-29yr olds. For more details, and a full stats summary, please see – CLICK HERE! Now lets get to my final guest of 2015 by the name of Ed Roman. Ed Roman is an Award-winning singer/songwriter, performer and multi-instrumentalist from Shelburne, Ontario, Canada. Ed has so much going on with tour dates, his video "Jamaica", and album 'Letters from High Latitudes.' Ed has such a great demeanor and vibe to him so I had him on to talk about his holiday spirit, the making of the video for "Jamaica", being a musician in 2015, and so much more!
Stoli: Where are we talking from today and have you started getting into the holiday spirit?
Ed.We are talking from the 2nd highest majestic elevation in the beautiful province of Ontario Canada, located at top of the great telluric current known as Vince.. ;) Getting to know the holiday spirit for us is something that comes on slowly. In past years we decorated everything from a wooden pole which has been our homage to "Festivus" as well as the classic Charlie Brown Christmas tree which was really an oversize rosemary plant. The spirit of giving should be alive and well in every day of our lives without it needing to be based in materialism or an organized holiday which insinuates this action. A true act of giving comes with no name attached to it. The concept of the Christ child has been amalgamated into the physical system and the celebration of the feast of Saint Nicholas. If you are to look into Nicene texts, it is very clear that the Christ child was born sometime in the month of September and the calendar is really seven years off of its grand schedule. I myself am a neo-pantheistic pagan with roots in a multitude of indigenous and Christian-based religions. So I guess I'm a Rasta Man. Any archetype that we tend to deify is not just a punctuating moment for the specific dates and our fiscal calendar's. They should be more like continual spiritual daily reminders as the type of people we have the potential to be. I'm always thinking about this stuff so I guess I'm always celebrating the spirit..
Stoli: We have seen another awful massacre this week in CA, at what point will Americans and civilized folks begin to take up arms?
Ed. God… I hope never. "we have nothing to fear but fear itself" if I may be so bold as to quote one of your former presidents.. The act in fear and terror lies in the most basic mechanism of the human existence. Even back to our primordial days as early hominids we functioned on the basis of sound, excitement, anger, frustration and anxiety. Many of these early instincts prevented us from hurting ourselves and understanding more about her physical environment. Today fear and terror is wielded more like a hidden weapon. Whether it be in California, Paris, New York City, Afghanistan, Sri Lanka or anywhere in this world where innocent people are the byproduct of these horrific events, we must learn to fight our anger and not react in the same way. Every action has an equal reaction but that reaction can manifest in a positive or negative way. We are the purveyors of what that change could be. In my heart I know that aggression cannot be won with aggression, but only refusal to participate in the exact mirror like image of that violent force.
Stoli: At what age did you develop an interest in music and when did it become more than a hobby?
Ed. Ever since my eardrums can remember. Funny thing about the experience of being a human being is that we so often are trying to analyze who we are in our bio chemical automobiles. Through research, scientists have determined that one of the last things that stops working in your system is your hearing. I think this says something very great about the mechanism of listening and what music does to us as humans. I've always known I want to been a part of music and somehow music has always been a part of me. I've been trying to understand what it's been saying to me not only my whole life, but every day that comes in front of me. Music to me is not just a commodity and/or a way to make money but it is in fact my life..
Stoli: What 2 artists/bands did you grow up on and did they influence your sound today?
Ed. There are so many that are influential to me in my life, still present on the planet and some that have moved on in the ether. I could go on listing names but most of them were people that weren't afraid to experiment. The ones that weren't afraid to not only push the envelope but ripped it open and threw it to the wind. Jaco Pastorius, Stevie Wonder, The Beatles, Bob Marley, Charles Mingus and anyone else that wasn't afraid to take a stance for the human condition. I could go on but really the scope of people and the genres that are influential to me are endless. Like you I am moved by the passion of the language and the root chakra energy that the music makes. Those things found them. They were the transmitters for the information that was already there and needed to be yelped, like a barbarian from the top of the great mountain..
Stoli: How much did music play as a part of growing up in your home and did your family/friends support your ambitions?
Ed. We were like music generals in a small hamlet village in an Edgar Allan Poe novel. Music to us in our neighborhood as we grew up on the outskirts of most towns in a small farming community was like a birthright to us. We grew up at a time fortunately, when we were not inundated with an influx of handheld bioelectric gadgetry. Our focus was about what we could do with our hands and how we could utilize our minds. Music for us was more about creating an avant-garde photograph or painting in the moment. It pushed us as young people and because it was unbridled and so enthusiastic, so many friends and family supported our musical mission. So much of our time on holidays was spent locked up in bedrooms in basements with primitive recording equipment capturing the latest things that we had just conjured. I believe I missed the number of family vacations as a result, so I would say it was greatly important to early upbringing and childhood. It was more like a musical kibitz..
Stoli: You have a new album out now, 'Letters From High Altitudes.' How long did you work on that album and where did you record & master?
Ed. I'm always writing songs and I never know exactly when they're all going to fit in the same pouch together. The material had been rolling around for about a year and a half and some of it was recorded five years earlier at another studio in Toronto. But 90% of it was all done here at Area 51 in my home studio over top of my garage in Melanchthon Ontario. The entire record was then mixed and mastered at The Radio Room in Barrie Ontario, which is also another amazing home studio that belongs to my producer and engineer Michael Jack. I'd say the whole thing was a year in the process from downbeat to everything being ready to purchase right across the entire web..
https://itunes.apple.com/ca/album/i-told-you-so/id849345060
Stoli: You have 13 tracks on this album, how many songs did you have to choose from and how do you select each song?
Ed. Like the lyrics of a song that seem to support and encourage one another, the same thing goes on in the grouping of songs that have been speaking to you. I've recorded over 150 songs to date, and some of them have never seen the light of day. They are an amassed arsenal of ideas that will eventually find their way into the correct envelopes. The songs from "Letters From High Latitudes" https://itunes.apple.com/ca/album/letters-from-high-latitudes/id849345060 all help illustrate picture. "I Told You So" starts you with the feeling of being close in the mechanism of the machine and the clutches of the system. As you pass through the songs you are touched and moved by songs like Jamaica that stir your root chakra and start to reground you. And as you come to the end the song "I Found God" is your perspective looking back at the beautiful ball that we all love each other on and all fight each other on. This is the highest perspective and/or proverbial latitude where one can ponder this existence in time..
Stoli: I love your video for "Jamaica" – youtube.com/watch?v=caBbTg-kkdA. Explain how that song & video came to be and what was your vision?
Ed. Hey thank you so much I really appreciate that. As far as I'm concerned anywhere you point to camera in Jamaica you will capture a photograph of paradise. My partner and I Kim, have been going to the island for number of years now and have fallen in love with everything about the culture of the people. As funny as it may sound, I feel more like a self proclaimed Rasta Man these days then I do anything else. Some of my greatest spiritual musical influences come from this glorious jewel and the Caribbean. Bob Marley, Bunny Wailer, Peter Tosh and Jimmy Cliff all come from here. Being on the island with newfound friends and now family has anchored me as a human being and made me realize what is really important. The community and how it functions within itself is one of the most beautiful things about Jamaica. The culture is rich with expression and conversations are more like sparking fire in the street. There is talent abound. It was very easy for me to want to write a song about this beautiful place and try to illustrate to people that the real Island experiences happen outside of the quote-un-quote resort walls and anywhere on this planet for that matter..
Stoli: How much time per week is devoted to music and what social media site do you find best to keep in touch with fans?
Ed. Now in days with the advent of all of this incredible technology almost every waking moment of my time is spent devoted to my music… as an artform and as a business. There are so many different social media platforms that you can participate in, but I have to say that my footprint really began with ReverbNation. Great music sites like this are wonderful to help not only draw people to your web presence but also generate a great fan base. This site has multiple tentacles into other platforms such as Facebook, Twitter, YouTube, SoundCloud and a multitude of others that are great for cross promoting yourself. It's the squeaky wheel gets the grease scenario out there. Even if you're posting photographs of child sized carrots and parsnips, it's still an incredible tool for creating traffic.
Stoli: What is it about being a musician in 2015 that gets you excited each day to create your art?
Ed. We live at one of the most incredible times and human civilization. Any bit of information is at the tip of your fingertips and you can communicate with people anywhere on this beautiful blue ball. I get excited every day when I talk to people and listen to their ideas and communicate my own. Music is not only a commercial venture or just a novelty item, but it is in fact one of the greatest communication tools that we have at our disposal. As time has past we can look back decades and look to these musical moments more as a catalog and documentation as to who we were in those moments in time. I'd say music is always something to get excited about..
Stoli: What is coming up for Ed Roman and where you @ online?
Ed. First off thank you so much for having me today and it's been awesome being able to speak with you. I've been recording the new record, set to be released in the spring of 2016 entitled Red Omen. Another Ferris wheel of conceptual ideas and philosophical rantings about the day and age that we live in. The album will also be supported by a summer and fall tour as well as multiple music videos to accompany the songs. Look for it online and in stores in late May and early June. You can always stay in touch with me by coming over to my website at www.edroman.net or you can hook up with all my social networking buttons. You can also listen to previous music of mine on sound cloud, and for free and you can get the Ed Roman app at ITunes for your iPhone or android device and I will always be buzzing in your pocket. Blessings of the day and may you have a wonderful 2016.