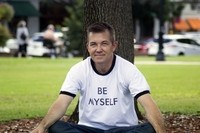 Craymo is an LGBT indie unsigned artist, bringing a sound that is reminiscent to the 90s, especially in his upbeat track "Be Myself." In this pop anthem Craymo simply speaks out that it is ok to be who you are.
"Be Myself"
https://soundcloud.com/craig-raymo-1/be-myself-craymo-master
Although the LGBT community has made amazing strides in the past year there is still a lot of hate going around. The LGBT community needs leaders like Craymo, releasing music like this is only helping the younger generation, and even older understand that you should never be ashamed of who you are. This is such an inspiring message, I look forward to seeing what else Craymo has in him.
http://www.craymo.com
http://www.facebook.com/Craymo.music
Jake St. Jean – stjeanja@my.easternct.edu