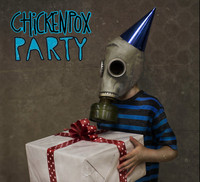 On Chickenpox Party's self-titled debut they made raw blues rock for the masses. With their album they build upon rock's origins offering up dense complex pieces of music. By tying the pieces together with a sense of play such as the album's childlike intro "Scabby the Clown" and the kazoos that mark the end of "So Long" the album is a coherent fully realized whole. Everything works from the tremendous guitar riffing of Gregory Smith to the hard-hitting nimble drumming of Bodie Davis to the physicality of Joey Jones's bass.
Stream and share the record: https://chickenpoxparty.bandcamp.com
After the intro skit of "Scabby the Clown" they get into the thick of things with the intense "Dumbentia". Showing off his impressive chops Gregory Smith's guitar playing is phenomenal. Flowing off of this is the catchy "In the Woods" where their vocals feel perfectly suited, with the right mix of southern and classic rock. Taking a slight breather the dusty organ work of "Fair Weathered Friend" creates an eerie mood. Possessing great range is the intricate structure of "Ill Deliberation" where they turn the volume down opting for tension. By far the highlight of the album is the jazzy work of "Mamacita" where they go for a lighter, looser, at times even funky, sort of style. Full of energy is the out of control work of "Just the Same" where the entire band comes out swinging from the maniacal drumming to the taut guitar lines. Sprawling in scope and quite ambitious is the reflective "It's A Man's Man's Man's World". Bringing the album to a close is the reassuring tones of "So Long".
Together Chickenpox Party creates an enormous lumbering beast of rock.
Posted by Beach Sloth