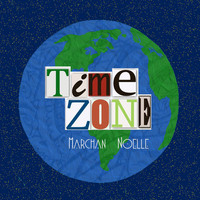 Marchan Noelle is approaching the music scene rapidly with a gypsy spirit and raspy tone. This indie artist is bringing the late 60s to early 70s vibe back to music. Which has quite frankly been missing for far too long. Her new track "Time Zone" is reminiscent of the Janis Joplin era with flowing instrumentals and soothing backing vocals.
Audio:
http://marchannoelle.com/album/307396/time-zone-single
Her lyrics showing her true gypsy spirit, "I want to wake up in a new time zone, go where the wind blows." If this is where the wind is bringing Noelle I think she should definitely keep following it. Noelle has the ability to reach a broad audience with her voice, which fits the indie scene that is very in right now with the younger generation, as well as attracting an older audience with her strong vocals and bluesy tracks. One day Marchan Noelle just might wake up in the Billboard Charts!
http://marchannoelle.com
http://facebook.com/marchannoellemusic
Jake St. Jean – stjeanja@my.easternct.edu