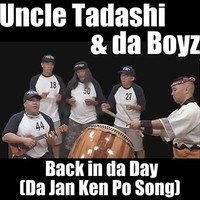 "Back In Da Day (Da Jan Ken Po)" is a sweet and sincere song. With a sense of community the whole of Uncle Tadashi & Da Boyz comes together to engage in perfect choruses. From the steady rhythm to the gentle ukulele playing the entire thing simply works. Lyrically the piece harks back to earlier days, reminiscing about them with great fondness. The song focuses on this concept of growth, this transformation.
Video: https://www.youtube.com/watch?v=WZHgTz0u1Ig
After a playful introduction the song begins in earnest with its joyful groove. The vocal delivery is impeccable hitting the right notes of both looking back towards more carefree times along with the successes that the passage of time can often bring. With that success comes concern about what has happened and what will happen. Childhood is explored in full, various games, the team spirit that often helps to define growing up. From there they bring together the pieces of childhood stories that inform many lives from nursery rhymes to shared experiences. However the darker impulses of aging also exist of midlife crises. With this darker take the song increases the tempo allowing for the vocal-less moments to help clear out the sonic palette. Upon completion of this breakdown they return to the small cherished moments in childhood.
By carefully constructing a narrative the piece positively teems with life. Uncle Tadashi & Da Boyz succeed brilliantly with the sun drenched harmonies of "Back In Da Day (Da Jan Ken Po Song)".
http://www.uncletadashi.com/
https://www.facebook.com/uncletadashidaboyz
https://www.reverbnation.com/uncletadashidaboyz
Posted by Beach Sloth