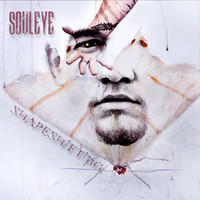 The latest release from hip hop veteran Souleye represents a watershed moment in an already storied career. Since his emergence mid-way through the last decade, Souleye has distinguished himself as a leading lyricist in a genre too often populated with workmanlike repetition. The new album Shapeshifting isn't merely a forum for Souleye's lyrical inventions, however, as each of the eleven tracks presents well-produced, compelling musical vehicles capable of entertaining listeners as instrumentals alone. It is equally impressive how Shapeshifting avoids any filler despite a relatively narrow range of sound. Electronica forms the musical basis of every song, but there's considerable melody laced through the tracks and a tasteful use of tempo and color alike.
"Human Overwhelm" kicks things off with one of Souleye's strongest testimonies to the challenges of life. A positive thread weaves all of Souleye's songwriting together in a common frame of reference, but "Human Overwhelm" falls in a much more message-oriented mode than many of the later songs do. "Labeled" tackles similar themes from a different slant underlined with the same positive point of view. Many of Souleye's best songs are heavy on groove and "Labeled" is no different. Souleye shows his tremendous skill for weaving his voice around the beats so well that it creates an impressive unity of verbiage and sound.
"Rage Free" assumes a darker musical hue than many of the songs, but the slightly menacing color of the music doesn't reflect its lyric. Souleye turns in one of his finest, most convincing performances on the album as he spits each tongue-contorting line with vivid authority. "More Than Five" challenges the listener with similar aggression but, as before, Souleye's reflective and confident lyrical turns temper the musical mood. His rhymes never sound forced and often crackle with the inevitability heard in the best performed poetry. "Our Flight" has another memorable groove and more of Souleye's fluid lyrical inventions.
One of Shapeshifting's peaks comes with "Word Won", a track that illustrates, perhaps better than any other, Souleye's skills as a writer. Moreover, it's probably his best dramatization of a lyric and the conviction informing each line will thrill attentive listeners. "For Love" never sacrifices any of the intimacy that marks many of Souleye's best songs, but it has a decidedly poppier edge highlighting it as a possible single. Its effervescent bounce and strong dance groove are irresistible. "The Victim", Shapeshifting's first single, is another of the album's highlights thanks to another stellar marriage of music, lyric, and performance. The backing track is an interesting collage of sound that nevertheless makes complete sense.
Shapeshifting ranks as one of the most creative, committed hip hop albums in recent history. There is depth and unity among the album's eleven tracks that many hip hop artists, content to pander, rarely aspire to. Souleye continues consolidating his position as one of the genre's pre-eminent artists and there appears to be no appreciable end to his skills.
9 out of 10 stars
URL: http://www.souleye.net/merch/shapeshifting
Floyd Hillenburg