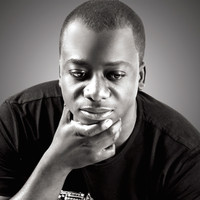 South African electronic pop/jazz talent C'nky Siwela isn't your typical aspiring pop idol. It's a common theme in popular music – a young man or woman, seemingly lacking the formulaic gifts associated with pop stardom, nevertheless perseveres through the discouragement until someone bucks conventional wisdom and takes a chance on them. Certainly that is part of Siwela's personal narrative. It's another matter, however, to uproot yourself from the country of your birth and move to a wholly alien culture in an attempt to find your way. It takes bravery, a bit of lunacy, and reams of self-belief. Siwela has that and it comes through in his latest single, "My Name Is in the Echo".
When confirmed rock and rollers like me hear the term "electronic pop", my eyes glaze over. I hear hypnotic beats without variation laying the foundation for vacuous, disposable music seldom glorifying anything more meaningful than shaking your ass. If you are like me, you'll feel more than a little surprised by the depth and musicality that Siwela brings to this otherwise moribund genre. Transformational artists are fewer and fewer these days, but Siwela's talent is singular. He marries the physicality of electronic pop with a yearning poetic sensibility and a calm awareness of our fragile lives. The effect is exhilarating.
The track threads a variety of keyboard sounds, pinpoint guitar melodies and fills, and understated percussion into a fleet-footed and robust composition. The guitar, in particular, moves through the song in a constant state of evolution. Minimalist guitar in one passage quickly gives way to fully formed melodies in the next and the vivid, almost visceral, production enlivens it with startling intimacy. Despite the assortment of instruments used on the track, nothing overshadows Siwela's voice. His unfamiliar accent and phrasing isn't any obstacle to enjoying the track or its surprisingly deep lyrical content.
This is a personal song. Even if you never read a single article or press release about C'nky Siwela, even the breeziest listen to this will convince you this is an artist who never creates anything not inextricably linked to his identity and personal experiences. Siwela's voice is bell clear, lacking any of the grit one might associate with such an emotional song, but his passion is unmistakable – he never sounds anything less than one hundred percent committed throughout. His timber, likewise, provides an excellent sonic counterpoint to the music.
If this serves as a preview for Siwela's upcoming full length release, scheduled for release in early 2016, then the larger world will soon hear more of the heights C'nky Siwela scales here with shocking ease. "My Name in the Echo" glides with impressive ease into the memory and has the spark of real genius bubbling beneath every passage. It's a fool's errand attempting to categorize Siwela and his budding potential because, after a release this good, there seems to be nothing he couldn't do.
URL: http://www.cnkysiwela.com/
Jason Hillenburg