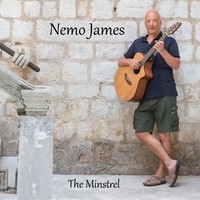 Nemo James taps into a deep melancholy with "The Minstrel". Within "The Minstrel" Nemo James tells a series of stories dedicated to dreams. Every single one of these songs takes a different way, never quite taking the expected path. By letting these piece unfurl gradually they are able to give off a sense of warmth and care for his subjects. Restrained arrangements permeate the piece. A gentle touch works wonders helping to give further support to his fascinating tales, his stories and his poetic verses. Stylistically his work effortlessly combines elements of country, folk, and classical.
Stream the full record publicly and share:
https://soundcloud.com/nemojames/sets/the-minstrel
The album opens up with the anxious energy of "Dreamer On The Run". As the song progresses it is revealed that this is a fallen one, one who has gotten nowhere close to his dreams. Spacious in sound is the calming tones of "The Poet", where the vocals and honeyed chorus work wonders making it one of the album's highlights. Aptly named "A Simple Love Song" is stripped down to the essentials giving the song an intimate feeling. Rather passionate is the work of "I Hated What I Found" whose story is one from the simple joys experienced in the everyday. "The Wheels Go Round" takes on a languid approach to let the song's introspective nature have enough room to roam. Bringing the album to a gentle conclusion is the dreamy work of "Rosemary And Time".
"The Minstrel" is a beautiful elegant album, full of color and light, offering hope in the darkness.
Posted by Beach Sloth