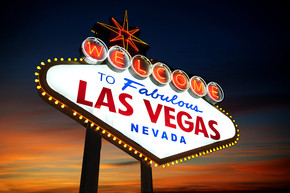 Las Vegas offers the world's top musicians one of the most spectacular stages on earth for their shows – and those who succeed in Vegas are the ones able to match its glitz and glamour all the way. There have been many brilliant music shows which have taken place there over the years, but some do stand out as particularly special.
Celine Dion
Her music might not be to everyone's taste, but there is no doubt that Celine Dion is one of the queen's of the Las Vegas music scene. Her show at Caesar's Palace is still running, having been an on-off fixture there since 2010, and during that time thousands of people have seen the show. Alongside her own mega-hits, Dion performs songs by other singers – ranging from Ella Fitzgerald to Billy Joel – during the show, and duets with others who appear in hologram form! Featuring no less than 31 musicians and dramatic lighting effects, this is definitely one of Vegas's best gigs.
Prince
Prince was not a musician that anyone really expected to launch a show in Vegas, but this just made his brief appearance there all the more exciting. He made his Las Vegas debut at the end of 2006 and by April of the following year he was gone, leaving people wanting more. Prince chose Club 3121 for his stage and hundreds went to see him. He didn't attract the crowds that the likes of Celine Dion have, but this was down to the smaller venue and shorter stay, and there was plenty to make his show special. There was no set list; with the Prince just playing whatever he felt like each night – and he had guest appearances from the likes of Larry Graham and Chaka Khan. Everything about it seemed spontaneous and unpredictable, adding to the magic.
Elton John
Elton John was a huge hit at Caesars Palace Casino's Colosseum venue in recent years with his show The Red Piano. This show debuted in early 2004 and ran for five years, during which time hundreds of thousands of people went to see the singer songwriter perform songs from throughout his lengthy career. Songs featured included Rocket Man, Candle in the Wind and Your Song, which were accompanied by visuals from David LaChappelle.
Many people will never get the chance to see their favourite singers play Las Vegas, so playing a few games of CasinoOnline.co.nz blackjack whilst listening to your own tunes may be the best consolation.