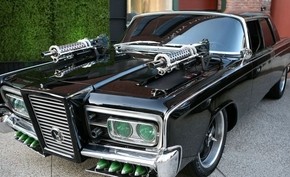 Modified cars can take on all types of forms, and it is not uncommon to see skilled people perform massive body overhauls on their vehicles. While the proper training provided at a great auto body institution like the Newgate School can help interested car enthusiasts with their pursuits, the endgame of many overhauls are impressive and inspiring in their presentation, regardless of personal experience. Many modders have set up all types of vehicle designs, drawing their inspiration from a variety of sources to create unbelievable renditions of their favorite comic books and television shows. Here are a few you just have to see to believe.
Smart For Fun 2
Titled the Smart For Fun 2, this vehicle designed by the Daimler-Chrysler company totally breaks from the idea that all smart cars have to be pocket-sized. Anything but undersized, this smart car looks like a cross between your favorite inner-city zip-around vehicle, and a rip-roaring monster truck. With tires that measure a whopping 55 inches in diameter and sporting 26 inch rims, this vehicle cruises around with the same vigor that smart cars are famous for, but with a total height of over 12 feet, and a ground clearance of 25 inches in total.
Black Beauty 2
After a short-lived but much-loved stint as the Black Beauty in The Green Hornet television program in 1966, the exclusive custom-built car was left to the elements. However, in recent years, the Black Beauty #2 has been completely restored to the same quality it had in the television show. The team made sure to install all of the original car's famous gadgets, including flip-down green headlights, rocket launchers under the hood, and a fantastic custom paint job. The car even has gas and oil slick discharge canisters!
Knight Rider Rides Again
Keeping up with the theme of fantastic television cars comes this beautiful reproduction of KITT from the cult classic series Knight Rider. With a custom ten-leather interior, moving lights, headlight covers, and a dashboard full of buttons, lights and knobs, this vehicle is a modern rendition of a beloved classic. The steering wheel is even modified to have that same fantastic double grip that KITT had in the series. Completely accurate and almost shockingly cool to look at, this mod stands out as one of the best.
As you can see, with a little work, study, research, and a great idea, anybody's auto body modding dreams are within their grasp. Take inspiration from these fantastic stories and see what you can do with your own vehicle! The sky is the limit when it comes to your imagination and drive.