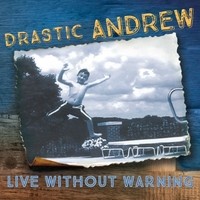 New Mexico five-piece Drastic Andrew's new album Live Without Warning is a wonderfully apt title for the collection. While there is an arch traditionalist quality informing each song, Drastic Andrew's high gloss production invests the collection with a contemporary sound that nevertheless remains faithful to their essentially purist vision. The band's particular brand of Americana music certainly makes use of pop song craft to aid widening the material's appeal, but their astute songwriting wrings a variety of interesting twists from those tropes. The twelve song collection, clocking in at a little less than fifty minutes in lengths, reminds any music devotee that bands often excel when they're doing more with less. The clean, economical slant of Drastic Andrew's music offers listeners a great deal.
"Now" has a strong, guitar-fueled pop edge and effective vocal harmonies. It's impressive to hear an opener so comfortable with straddling a line between pop and rock, but moreover, capable of giving it such a compelling spin. Lead singer and primary songwriter Andrew MacLauchlan doesn't have a songbird's voice, but deceptively strong emotive qualities. The title track has softer textures than its opener, but the acoustic instrumentation doesn't mean this is lighter fare. The quasi-ballad direction suits the band well and they demonstrate great command over dynamics and gradually orchestrating the song's various musical elements into a cohesive whole. "Alien Creature" introduces listeners to the band's quirkier songwriter tendencies, but the odd subject matter and idiosyncratic delivery never sounds gratuitous. The light R&B influences and dance club beat might seem like an odd match for the song's humor, but it helps accentuate the band's primary aims with this track – to get people smiling and moving.
"Pedestrian Love Song" is another acoustic based track that opens with MacLauchlan's voice and guitar before the band soon enters. The song's lazy mid-tempo stroll is ideal for its slightly mournful vocal and melody. The brisker tempo of "Humble" carries a decidedly country influence, but it merely colors the piece instead of defining it. Drastic Andrew aren't content exploring that particular direction however and the bridge includes memorable harmonies. The stuttering rock guitar of "Walking with Me" is augmented with light brass, but the drumming creates an impressive groove that stands as one of the album's instrumental highlights. "Send Him Back" revisits the band's rockabilly/country influences and shows off their ability to strip tracks down to their essentials and refrain from indulgences. "1812" opens as a slow march before the band expertly shifts tempo into a near shuffle. Such tricky tempo changes are an important part of "1812" and the song represents their first real chance to flex progressive muscle. The album's penultimate tune, "Plunder Away", is a raucous shuffle that charges out of the gate and never relents. Live Without Warning closes with "End of the Line", a wonderfully eloquent and gently invoked salutatory send-off with MacLauchlan's best vocal.
Live Without Warning has impressive diversity and musical balance. There are really no holes in Drastic Andrew's songwriting – it's hard to escape the sense that this is a band who addresses everything they do well on an album and resists needless experimentation. They are concerned, after all is said and done, with presenting sturdy and memorable music with the potential to entertain and move listeners. They have met that standard and more.\\
9 out of 10 stars.
URL: http://drasticandrew.com/
Jason Hillenburg