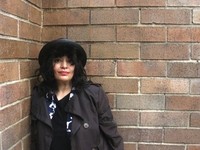 Didi DLicious's self-titled debut is an album of glowing optimism. These songs display the difficulty but ultimately the joy of finding self fulfillment. Stylistically the songs range from gentle folk-tinged work to dance-rock. What ties these songs together is the narrative that Didi DLicious uses in forwarding the careful narrative that emerges from the songs coming together. Oftentimes poetic, the songs reflect a deep knowledge of naturalistic imagery as they celebrate the world's infinite possibility.
"Willow Tree" Single
https://soundcloud.com/dididlicious/willow-tree
Wasting no time, "Animations" starts the album off with strong swaggering rhythm. At times majestic the song is full of sonic color. Taking on a quieter late night vibe is the catchy "Willow Tree" whose organ swells give the song a sense of innermost contentment. Going for a dance-rock vibe is the summery tones of "Bluebirds". By far the highlight of the album is the stripped down anxious work of "Exotic House". Carefully constructing the story the piece grows ever larger in intensity. Playful in tone "Otherside" contemplates the inevitability of death. Light breezy tones emanate out of "Roses" with lyrics that emphasize looking at the positivity of the world. Possessing an infinite-seeming driving rhythm is the rush of "Breathe". Chaotic in tone is the pure kinetic energy of "The Walrus" which has particularly fantastic guitar work. Bringing things to a gentle conclusion is the tender work of "Bang Bang (My Baby Shot Me Down)".
Brilliant and lush, Didi DLicious creates a pitch perfect pop album. The album release party will be on December 19th at 7PM at The Bitter End, NYC.
https://www.sonicbids.com/band/didi-dlicious/
http://facebook.com/dididlicious
Posted by Beach Sloth