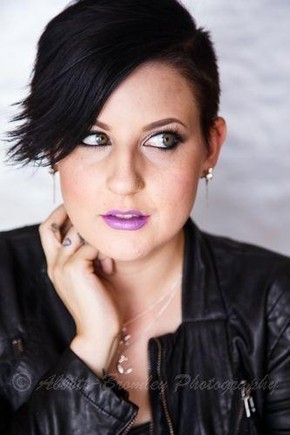 Sometimes re-locating can bring great dividends. This would be the case for Denver native Lyndzie Taylor who decided to chase her musical dream to Los Angeles. She first tasted the rhythm of music at the tender age of fourteen when she learned to play the guitar. She became one of the youngest artists in Denver with two independent releases and a string of venues under her belt. At this point realizing her potential she headed for the bright lights of L.A..
"Denver was a great place to get started as an artist, learning the ropes as a DIY musician. I booked my own shoes, produced my own recordings, did my own promotion. LA has been a great place to meet like-minded individuals who share my passion. I have connected with some amazing people and we are all working together to make our dreams happen."
Lyndzie would move on from learning guitar to taking on voice lessons and studying musical theatre and vocal performance at The American Musical and Dramatic Academy (AMDA) in Hollywood. She would soon take these priceless lessons to another level by performing at venues nationally. Lyndzie has rocked crowds from Whiskey A-gogo in L.A. to Arlene's Grocery in New York. In 2011-2012 she performed on the Steal Hearts Tour. She did three small tours in the West Coast/Mountain, Northeast/East Coast and Southern U.S.
Her influences have varied from rock legends Queen to pop icon Michael Jackson. She has managed to mix these influences into her own pop rock driven tracks. Her debut album "Knock Me Down" turned out to be a successful first run. She would soon follow it up with more riveting rocking releases.
It came as no surprise that she was the #1 most played artist on Women Of Substance Radio (www.wosradio.com). The internet radio station features independent female artists around the world. The station supported her debut album "Knock Me Down" by placing select tracks on heavy rotation.
Her recent album "Phoenix" is filled with hard hitting emotion a fiery return from her last project. The cover which was designed by Bialekdesigns.com is an impressive and symbolic homage to the message of the album.
"I just wanted the artwork to be colorful and chaotic, and embody the passion and strength in this album. The record is a musical departure from my precious work, so I wanted the artwork to reflect that departure as well. The eye is crying/bleeding, but the image of the Phoenix is in the iris of the eye, so you can see that through that vulnerability is a fire and drive underneath it all."
Lyndzie wanted her new project to be more hard driving force of emotion. She combined electronic sounds and riveting electric guitars to add an energetic sound to match the edgy lyrics. The anticipated release of the new album is November 13, 2015. She is hoping with the support of the record to set up a tour in early 2016. Lyndzie is off to another stellar start with her new project to catch the burn of the new release visit http://www.lyndzietaylormusic.com.
by Nick Christophers