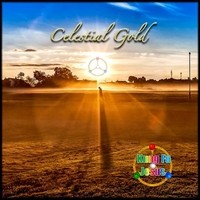 Full of elastic sunny grooves and hopeful lyricism, Kung Fu Jesus's "Celestial Gold" is an album of unbridled joy. The sound is an interesting hybrid of the old and the new without indulging in nostalgia. Instead Kung Fu Jesus's approach is truly unique. By pairing the cheery melodies and endless grooves with his strong voice, Kung Fu Jesus creates the kinds of songs that invite the listener to sing along. This sense of inclusion is found throughout the album. Bright vibrant textures help to further emphasize the message of hope and triumph over what seems to be the inevitable.
Stream the record:
https://soundcloud.com/crgsnape/sets/celestial-gold
Opening up any album with cowbells is always a good idea, and Kung Fu Jesus's "Rainbow Road" starts things off strong. With a sense of narrative Kung Fu Jesus moves forward into the light. Funkier is the technicolor dream coat of "Golden One". Everything on this song works from the slight ambient tinge of the synthesizers to the solid consistent rhythm work. A sense of play is infused into the aptly named "Monkey Man". Lilting rhythms introduce "Fenris Wolf" whose song displays a remarkable knowledge of Norse mythology. Staccato percussion and guitars define "I'm On Fire". By far the highlight of the album is the tender work of "The White Wind". Ending things on a positive note is "St Nick" as the song describes the victory over evil.
Watch the music video for "Rainbow Road":
https://www.youtube.com/watch?v=0Xo9vzcPJvw
"Celestial Gold" is aptly named for it is an absolute treasure: a delightful blend of groove and grace.
http://www.kungfujesus.co.uk/
https://www.facebook.com/kungfujesusuk
Posted by Beach Sloth