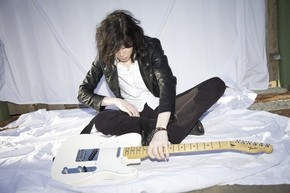 Happy hump day to all music loving people of earth, so nice to see you again. I know this is a music website but I must say I am rooting for the Chicago Cubs to go all the way and make history. Now lets get back to the music, Perri's Leathers Limited are delighted to reveal their latest licensed guitar straps and picks featuring iconic images from Nirvana, KISS, Soundgarden and The Doors. The new ranges continue the expansion of their licensed collections, which includes accessories featuring The Beatles, AC DC and Pink Floyd amongst many others. Very cool licensing & merch deal. In other news, last year, the various sub-sectors of Germany's music industry generated revenues totaling €11 billion. With a total of 127,000 salaried employees and self-employed individuals currently active in the industry, these sub-sectors surpass the employment numbers of every other media sector. That is substantial revenue from music. So today we have a talented solo musician coming out of Kansas City by the name Ivory Black. There is so much I enjoy about this young musicians music in that his sound is so soulful and real and you can tell he knows how important image is as I do in this biz. Join me today as we chat all about his new EP 'Ready Get Set', his musical alias Ivory Black, Trump 2015, and so much more!
Stoli: Where are we talking from today and are you sad to see summer fade away?
At this time in my life I am in the Kansas City area, at a mac computer, watching my friend's cat freaking out about life from within a box it found on the floor. I'm currently residing in a small town just outside of the city, This summer has been one of the best of my life! The chance to be able to share my music has been extremely enlightening, but I'm also very eager to get back into the studio. It's a tad bittersweet actually.
Stoli: Did your parents name you Ivory Black and if not what does that alias define in your sound?
Haha, no. My parents didn't give me that name, My birth parents named me Devin, and I like my birth name, don't get me wrong. It just doesn't define who I am as a person. I've always felt torn. Never really resting on any one side of anything. I do have a non-binary identity and that mindset seems to somehow fall into almost every single aspect of my life. Some could call me indecisive, however I'm probably just a duality of my entire self.
Stoli: I find your sound to be addictive. How long did it take until you finally found your voice and sound that you knew was right?
What a compliment, thank you! I like to think that my music grows on people. A lot like how the music of today had to grow on me. I was raised to listen to a bunch of classics like Fleetwood Mac, The Beatles, The Kingston Trio, and almost every album known by the Bee Gee's just to name a few. So of course, my sound eventually evolved as I grew older and discovered more modern artists. My sound, along with my voice, is always changing. So the sound that defines me now will change as I do as well.
Stoli: How much time per week do you spend on your music and do you have work/school/family as well?
The first thing that came to mind reading the first half of that question was the word "waves". It really makes sense since my ability to write and work on my music does come in waves! I could forcefully sit myself down and slave in a studio for 10 hours and have nothing come to mind. However, I could just walk in and start recording an idea that popped out of nowhere and produce a rough version of it in as little as 25 minutes! It all depends on a lot of things though.
As for family, work, and school? Let's not go there haha! To be honest, it's complicated. I don't go to school, and you and I are currently talking about my job but as for my family, I have two. I was given up for adoption at the age of 4 and adopted at the age of 5, and to make a long story short my adoptive family doesn't ever reach out to me anymore. However, my bio folks are a different story, but like I said, it's complicated.
Stoli: I really enjoy your EP – 'Ready Get Set.' How long did you write and record that EP?
Thank you so much. That EP is a short compilation of all the songs I've written over the years since I moved from my hometown over 7 years ago. It is an introduction to my music hence the name, Ready Get Set, being it's just the tip of the iceberg of what's to come. The record itself took about 5 or so months to produce in studio; however the length it took to write was all relative to when I wrote it. In all, based on the song choice and when they were written, it took close to 2 years to complete.
Stoli: How did you decide on 5 songs and how many songs did you choose from?
Ugh! That was the hardest thing to do, as I had to choose from over 100 songs I've written, and to this day I continue to second-guess the song choice. My manager and I picked the best 28 and together with the studio engineer we picked the best 5 of those 28 to show the diversity in how I write. A different message and feel for each one. It felt right to have the ones on there be the first releases, regardless of how I felt about it afterwards.
Stoli: I watched your live shows via YouTube. How do you get ready for a live show and how do you connect with the audience?
You must be speaking about the acoustic renditions of my songs. The intimacy sacrificed to pull off a show like that is always worth it when you emotionally connect with someone through what you do. The fact that people can let themselves be open enough to that kind of connection still amazes me to this day. It's more powerful than any kind of preshow jitters that arise before I walk onstage.
Stoli: I love your song "Third Degree." What is that song's meaning to you and is it based on your real life?
Third Degree is actually a timepiece. I wrote it to explain to the people that feel superior to others that we are all capable of living our own lives our own way regardless of what anybody says. Every time I perform it, it's always directed at anyone who's ever said I wouldn't measure up to anything. It's a direct message to anybody who's ever said somebody's way wasn't the right way because of what they believe religiously, or just because they want to control who they are. Basically, to me, it's a passionate anthem to all the naysayers. Music is universal, so people can take from it what they will.
Stoli: Does the thought of Donald Trump as president scare you or do you not care?
Ha! I follow politics to a degree. I'm actually partial to somebody that I'm not going to share, as I might change my mind and I'm entitled to that, but I never really saw a reality TV star running for POTUS haha It's a bit surreal, but this is life after all!
Stoli: What is coming up for Ivory Black and where you @ online?
What seems to be in the works as of late is getting the band ready along with a few other members yet to be discovered, and just touring the hell out of wherever the road takes us. You can bet that I'll always be focused on my writing as well as improving my craft the best I can.
You can visit my website ivoryblackmusic.com for upcoming shows and other exciting things, along with a link to my Twitter @ivoryblackmusic and Instagram @ivryblack.
You can find me on social media here.
http://www.ivoryblackmusic.com
http://www.facebook.com/ivoryblack.com
https://itunes.apple.com/us/album/ready-get-set-ep/id1004632526