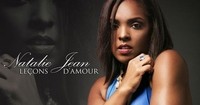 Natalie Jean's "Lecons D'Amour" is a force of nature. With her commanding voice front and center, everything else is merely in service of her impressive lyrical talent. The rhythms are powerful, helping to give the entire proceedings a sense of power. By letting these piece vary in terms of style from the absolutely infectious dance pop of "Arrete Regarde Ecoute" to the introspective ballad of "Nostalgie". No matter what she approach she takes the songs are bound together by her dominating vocals.
Audio: http://natalie-jean.com/Lecons_D_Amour.html
"Je N' T'appartiens Pas" opts for a straight rave-up. A song of pure grandeur the entirely is undoubtedly impressive. Carefully crafted raw synthesizers create a driving rhythm. This syncs up perfectly with Natalie Jean's impassioned vocals. With a stripped down approach is the sly groove of "Devenir Gris". Despite its quiet nature it possesses that same attention to rhythm nicely gliding by. For a nostalgic trip Natalie Jean's "Sans Toi" takes on a luxurious sound as the piece builds up every so gradually. On "Mon Ange" Natalie Jean's voice becomes quite intimate. Sonically the song displays a classic pop approach as the piece ebbs and flows. Absolutely giddy is the album's highlight "Penses A Moi". Kept together by a catchy hook and a massive beat the song is propelled forward.
"Lecons D' Amour" shows off Natalie Jean's undoubtedly impressive vocal range. From the intimate to the celebratory, Natalie Jean does it all and does it well.
https://www.facebook.com/NatalieJeanObsession
Posted by Beach Sloth