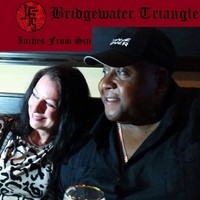 Inches from Sin's Bridgewater Triangle is a fiery funk-fueled frenzy. With the right mix of playful synthesizers, drum machines, and a classic rock tinged guitars it is pop perfection. By far the heart and soul of the album are the strong vocals. Karen and Rob show off an impressive knack for lyricism as these songs touch upon social issues that separate people and the overall sense of hope that love can bring.
Hand claps and jaunty guitar work introduce the opener "See You Again". The sense of playfulness helps to define the song. Going far into the funk is the infectious groove of "Murder". A sense of nostalgia permeates as at times it resembles a long-lost 80s hit. Far more contemplative in tone is the elongated work of "Move On". Introspective in tone the piece slows things down for the middle portion of the album. This continues on the country-tinged work of "Hold On". Crystal clear acoustic guitar nicely accompanies the togetherness of Karen and Rob's lush harmonies. Moving towards chamber pop is the eclectic work of "Weight of the World". On "Hit it One Time" shows Inches from Sin at the height of their powers, serving as the highlight of the album. Crazed in tone is the wild work of "14 Daughters" whose organ and percussion give off the sense of a carnival-like atmosphere. "I've Seen Better Days" ends the album on a note of grandeur.
Karen and Rob prove themselves to be masterful singer-songwriters on "Bridgewater Triangle".
Official Web Site: http://www.inchesfromsin.com
Facebook Page: https://www.facebook.com/inchesfromsin
Record Label – Bongo Boy Records Asia Hong Kong, China
http://www.kanjian.com/bongoboyrecords/
Bongo Boy Records USA Belvidere, New Jersey
http://www.bongoboyrecords.com
Posted by Beach Sloth