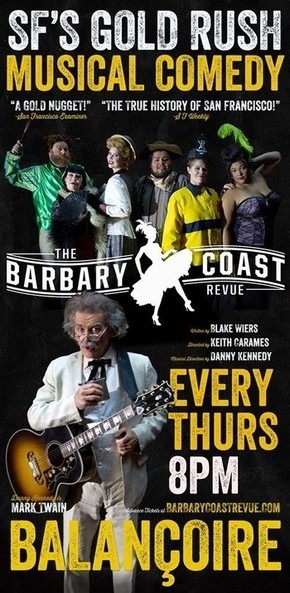 The Barbary Coast Revue, a musical show local to San Francisco, has extended its third season through November 12. Every Thursday evening, tickets are available for the joyful romp through sing alongs, witty comedy, and terrifically original material. The show has been highly acclaimed since its 2013 debut, heralded as a hidden gem of the San Francisco entertainment scene.
Set to parodies of Bay Area hits from the '80s to now, the show delivers a unique and consistently compelling history of the area's music and culture. Cabaret tickets offer an inexpensive night out at $20, while the 'dinner and a show' tickets offer a much more immersive and full experience at $60. The latter option includes a five course meal and a private reception with the cast. From the specialty cocktails to the tantalizing dessert, the dinner option is a sure-fire route to a night out quite unlike any other.
The season kicked off in May and concluded last Thursday, September 24. Due to popular demand and glowing reviews, however, the Barbary Coast Revue will continue to entertain through November 12. Joining the talented cast of performers is Eye'z, a woman with a growing reputation in the Bay Area for her stellar pipes. Tickets are available on Eventbrite and can be found below, along with relevant contact information and the show's main website.
https://www.eventbrite.com/e/the-barbary-coast-revue-tickets-16636395908
Eye'z Information:
https://www.reverbnation.com/eyez
https://www.facebook.com/Eyez-151220004914214/