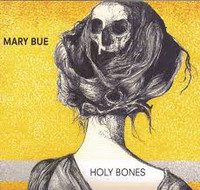 It's often when an artist takes unexpected detours that their voice truly emerges. Minnesota native Mary Bue has carved out a growing reputation as a piano balladeer and songwriter of unquestioned skill, but Bue's sixth studio album sports a triumphant turn in artistic direction. Bue abandons the piano-driven sound of earlier efforts in favor of guitar-centered pieces with high melodic content and a surprising, appealing dissonance. Bue's eight song collection touches on personal issues, but her songwriting vision encompasses a sharp sense of social commentary further shaped by her vivid imagination.
The opener, "Candy", splendidly embodies the aforementioned melodic content juxtaposed against dissonant, jangling guitars. Bue's supporting cast keep the energy level high and her emotive, zesty voice proves capable of matching every musical flourish. "Cheribum", a creative bit of song craft about an angel searching for love letters in a dump, trumpets an infectious punk sensibility, but the song's real appeal rests in its aura of spontaneity. This sounds like a song that came together five minutes before they recorded it and that kind of musical immediacy lingers in many memories.
"Holy Bones" begins with some tasty guitar meandering soon coalescing into an airy, acoustic-fueled march. The melodic content is weaker, more diffuse, than the earlier tracks, but Bue's strong vocal melody fills the gaps. Her verve and phrasing are a strength on every track and her enthusiastic singing elevates otherwise mundane lyrics. "Heart's Desire" detonates into life before settling into an atmospheric simmer. Bue enters with an understated, barely restrained vocal that maintains a theatrical reserve even when the band shifts into a higher gear. The mid-tempo bounce of the song's verses has the same lean, economical pop energy of the album's best songs.
The clean, garage band-like grind of "Put Up" embeds itself in the brain in a few seconds. It's a deceptively simple riff, but don't be misled. The simplicity of the chord charges is purely mechanical, but there's hidden depths in the ability to write so simply and clearly. Mary Bue's songs exhibit an innate understanding of how the best songs feature no wasted motion, no matter their length, and aim for the heart and mind equally. "Archaeology" is another song with a clever premise, but the musical backing subverts its potential. There's no real range here and the lack of variation will distract some from the song's narrative. The song's country-influence is competently dispatched, but ultimately plays like an affectation, tacked on diversity for its sake alone.
"Veal" adopts the point of view of a calf destined for slaughter to decry the fate of animals in industrial farming operations. It might sound like clunky subject matter for a pop singer, but Bue's mandate is wider and the track possesses supreme theatricality that holds your attention from the first note. Holy Bones closes with the mounting sonics of "A Million Moths", a fragile, almost crystalline song that seems to waft into view and gather strength from there. Bue's evocative vocal beautifully accentuates the mood.
Mary Bue's sixth release is watershed moment in this singer/songwriter's career that, furthermore, possibly represents her artistic peak. Rarely has a change in direction arrived with such bracing confidence and wide-eyed, chin-up commitment. Her voice is in full flight throughout the album's eight tracks and the backing musicians match her with rarely a misstep.
8 out of 10 stars.
Jason Hillenburg