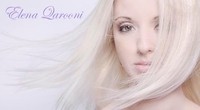 "Unique & Original" shows off Elena Qarooni at her most fiery. With a ferocious guitar riff her vocal delivery is impeccable. The song is muscular with absolutely no letup. A certain funky sensibility defines the song. Her lyrics are imbued with a sense of defiance. References abound throughout the song mocking the ideas of materialism and overall consumer culture. Free from these distractions Elena Qarooni appears to be far removed from these false concerns. Indeed, as she sings, she is an original.
"Unique & Original" – https://www.reverbnation.com/elenaqarooni/song/23683969-unique–original
With "Beautiful" Elena Qarooni takes a sweeter approach to the sound. Much calmer her lyrics possess a sense of love for the world. A truly sweet love song it is subdued and gorgeous. The arrangement is impeccable from the restrained piano to the subtle work of the strings. Her overall sensibility takes on that of chamber pop, light, airy, and full of joy. Lyrically the song is full of tenderness with carefully chosen words to give off the sense of an infinite place of calm.
"Beautiful" – https://www.reverbnation.com/elenaqarooni/song/20749897-beautiful
A completely stripped down sound defines the minimal work of "Before You Go". By far the quietest piece of the trio here Elena Qarooni opts for a slow build letting the song gradually fall into place. The flourishes are so slight yet their emotional impact is undeniable. Elements of nostalgia come into the mix as the song appears reaches a pivotal crescendo towards the end.
"Before You Go" – https://www.reverbnation.com/elenaqarooni/song/20749878-before-you-go
Elena Qarooni possesses a wide variety of styles from blistering rock to beautiful ballads.
https://www.reverbnation.com/elenaqarooni
Posted by Beach Sloth