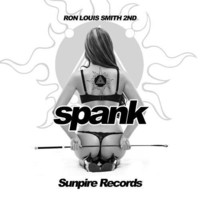 Ron Louis Smith II might be the son and, as the title of his first album The Prince of Sunshine alludes, heir apparent to KC and the Sunshine Band's memorable blend of disco and light funk, but that doesn't mean he lacks his own voice. Instead of immersing himself in the past, the younger Smith has grabbed his own destiny by the throat and positions himself as an artist prepared to entertain many and leave his own mark on the genre. There's no imitation here. Instead of being beholden to following others examples, Smith embraces his influences and re-invents its strengths for a new generation.
His cover of Jimmy "Bo" Horne's "Spank" varies considerably from the original. The initial version is a high quality, but rather minimalist number. Smith II recasts it with added musical layers and a much more impressive scope. The percolating, Caribbean-flavored percussion straddles a line between avoiding overstatement yet providing the track with a memorable tempo. "Spank" has an energetic rush that gives the track a bracing, physical feel ideal for its target audience.
"Party Music" opens with racing percussion that sets the tone before keyboards come in over top. The track continues building and adding more instrumentation until it sounds like a full-on dance music orchestra. There's great tension struck between traditional instrumental sounds like the horns and the flash keyboard lines. Like in the opener, Smith II gives the track ample time to establish itself before his clear and soulful vocal enters the song. "Can't Let Go" has a steady and rhythmic march punctuated once again with melodic horns. Smith enters the song just before the two minute mark with a much lighter touch than in the previous songs and it's strong evidence of his range.
"Love Talk" has all of the expected slinky charm one might expect from Smith. This has more of the focus listeners associate with a traditional sound and, instead of allowing the music time to stretch out like on earlier songs, Smith comes in quick and steers the song with the help of able backing vocals and harmonies. Shimmering pop sensibilities take over on "Come On and Do It" and accentuate the song's unassuming melodic strengths. Once again, Smith teams with a small contingent of backing singers who aid him in bringing this track to life. "Real Good Time" has a more assertive, funky edge than the previous two tracks and bubbles over with uncluttered energy. The earliest songs on The Prince of Sunshine clearly promised this is an artist intent on mixing the retro and modern for maximum effect and the effort never weakens as the album's end nears.
"Party Freaks" features a mix by Mike Maurro and has a deliciously retro vibe. This is one of the moments when Smith openly embraces his influences, but even still, his collaborators share a vision for their modern take. This is the entertainment promise of dance music fully fulfilled and fleshed out with irresistible tempos and pulsing pop magic. "Don't Hold Back" ends the album on a beautifully easy-going and mature note with affirmation. It's rare to find albums looking to the past and future with such balance while still possessing supreme entertainment value.
FACEBOOK: https://www.facebook.com/RONLSHOUSE
4/5 Stars
Jericho Adams