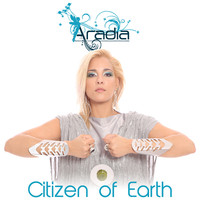 Aradia's "Citizen of Earth" points towards a gleaming future of pop. Embodying the best of a dreamy yet gritty urban vision Aradia's work is a unique creature with clever reflective lyrics. At times Aradia sounds akin to The Sneaker Pimps, Portishead and other pioneers of Trip-Hop. With elements of ambient that enter the fray the textures glisten and the melodies hook themselves deep into the mind. Her successful sonic experimentation recalls Bjork at her freest.
Stream the EP in full at Soundcloud:
https://soundcloud.com/citizen-of-earth/sets/citizen-of-earth
Tactile electronics introduce the album. On "Trouble" Aradia displays a keen knack for pacing. Pulling back from the pure electronics is the warmth of "Today" which opts for a languid summer haze of a groove. Industrial in nature is "On Fire". For "On Fire" Aradia clearly has a lot of fun with the piece as the song possesses a glam rock sensibility to it. Dreamier in tone is "M-Class" where Aradia explores ambient pastures. Economical in scope is the efficient electronic funk of "Dream". By far the highlight of the album is the neo psychedelic tones of "Magic". Sweetness flows out of the hopeful "The Light". Sounding loose is the playful work of "Keep On". Bringing the album to a close is the pastoral bliss of "So Long" complete with orchestral work and epic sweeps of sound. At times "So Long" recalls much of Saint Etienne's masterpiece "So Tough".
"Citizen of Earth" is a pitch perfect album, the kind of thing that possesses true confident sonic grace.
Posted by Beach Sloth