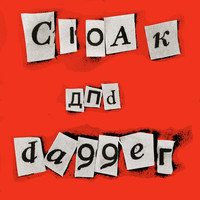 Agent 13's demands to be played loud, very loud. Blasting forth with great energy they work in the tradition of great, fast, classic and punk rock. With this unstoppable force they simply burn through their track lengths on "Cloak and Dagger". Yet these are exactly the kinds of things that get stuck in the mind long after they're over. Vocals are strong, supplemented by the taut guitar lines and driving rhythms. Lyrically the songs are pitch-perfect, with a thoughtfulness that shows off their fondness for the thoughtful work of the Clash and other classic rock greats.
Audio: http://agent13.bandcamp.com/album/cloak-and-dagger
On "Rock and Roll Comes at You (Out of Nowhere)" shows off their considerable skill. Attention to detail is particularly wonderful, from the celebratory sound to the lyrical detail referring to the bland commutes of the world. "Another Day" takes on a different, quieter, more introspective approach. With the angular guitar work they chug along at a steady consistent pace as the lyrics focus on an impending mortality. Their pop sensibilities shine forth on the playful "Wildcat" where the guitar flourishes and slight chaotic spirit help to emphasize the lyrical narrative that takes shape. Nailing the 70s punk spirit is the fantastic and aptly named "76". By far the highlight of the album it has an incredible amount of music references with both the lyrics and the musical style, with a great understanding of punk rock history.
With "Cloak and Dagger" Agent 13 shows that rock is not dead but very much alive and kicking.
https://www.reverbnation.com/agent13
Posted by Beach Sloth