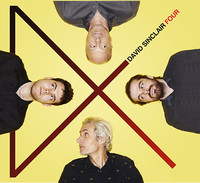 David Sinclair Four's "4" does the blues justice. This is the heart and soul of rock and roll. While plenty of bands have moved away or watered down the blues, David Sinclair lives it. Lyrically the pieces emphasize this exhaustion. Behind him is a band particularly adept at highlighting this sort of malaise with life. Every song builds off of the past as David Sinclair's songs explore what it means to be alive in a world that can oftentimes feel so confining.
Nowhere is this more evident than on the album opener "Sick of Being Good". By taking on a slight amount of defiance that song truly celebrates the misfits, those unwilling to live by society's rules. Disappointment colors in the downtrodden "Life Gone Cold" whose slow build towards a wonderful release is particularly satisfying. Here David Sinclair lets the small flourishes of sound grow ever larger until they peak for the finale. Taking on a relaxed summer groove is the sunlit, dub reggae inspired work of "Down by the Canal". Gracefully the song shows off the ease of the simple things in life. Opting for something a bit more raw is the wonderful "World Turns Around" which presents the slow-burning blues. Dreamy in tone is the haze of "Coming out of the Rain". Bringing things to a satisfying conclusion is the expertly executed work of "Coming off the Rails".
"4" shows the future of the blues and it looks remarkable indeed.
http://www.facebook.com/DavidSinclairFour
Posted by Beach Sloth