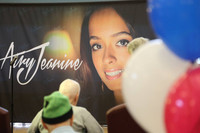 Okay…wait…whaaaaaaaaat? This bearded-chin of mine isn't supposed to give in so easily to the electronic-pop & R&B genres – but I'm honestly loving this new single from Airy Jeanine. I feel like the rock-side of my personality should be putting up much more of a fight than it seems to be right now – or maybe, just maybe…maybe "Mama's Girl" really is that entertaining and captivating of a single as I think it is. You fantastic readers of mine have always trusted me enough to follow me down the rabbit-holes of genres and styles I don't normally listen to before in the past – so take my word for it and check out the rhythmic, electro-infused groove that Airy Jeanine has put together here on her brand-new song.
The overall production is top-level professional…sick editing and talent combine to create a confident & sensational electro-pop song. While Airy Jeanine for the most part takes on the music herself with her own natural talents – the additional studio effects added in to create stuttered rhythms are priceless. They worked out incredibly well and completely add to this song in all the right electronic-ways and whether on her own or glitched-out through the studio-boards, Airy Jeanine sings with sweet tones in this reminder of how a girl's supposed to be goin' bout her business.
Airy Jeanine "Mama's Girl"
https://www.youtube.com/watch?v=bpgYR2Wql1k
The music is tight…the breaks in between the verses and choruses are full of electro-infused, vibrant-dynamics that shift, pulse, glitch and beep their way right into your brain with captivating rhythms. While as a fairly gnomish-looking guy myself – I might not be able to relate to the lyrics as some of the rest of you out there…but although Airy Jeanine seems very young still, she's found an effective style and confident sound in her music to communicate with. Definitely a beat that's going to get you movin' and if you dig on what she's saying or can relate – you'll be sure to get even more out of it than I am.
Though I gotta admit…I'm kinda liking the idea of pulling up to a red-light somewhere and singing "Mama's Girl" while some shocked driver looks in on me from the lane beside…that could be fun!
All-in-all, Airy Jeanine is making a bold move with this single that's sure to catch on with fans of electro, pop, R&B & soul-music – there's room enough for you all, so have a listen and see what you think for yourself. Guaranteed she'll hook you in as quickly as she did with me – the verse is incredibly smooth, the chorus amps it all up even further and the instrumental spots in this track give it all the spice your speakers could need.
Check out the video for "Mama's Girl" by Airy Jeanine below and find out more about her at her official page at: http://www.airyjeanine.com/
JER@SBS – http://sleepingbagstudios.ca