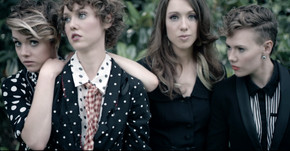 Named using their first initials – Sarah (violin, guitar, bass), Hannah (piano, keyboard, concertina, accordion), Eva (mandolin, guitar) and Liza (drums, djembe, beatbox) – SHEL are a Nashville based all-sister quartet who will release their debut UK single at the end of July. Produced by Eurythmics co-founder and latter-day writer and producer to the stars Dave Stewart, 'You Could Be My Baby' is the first release in a new label partnership deal between his company Dave Stewart Entertainment and Membran.
"I have never come across such talented siblings that play and work together as one cohesive unit. SHEL are all exceptionally gifted musicians, singers and outstanding individuals. They blow my mind with their creativity. They are the best example of DIY I've ever come across with their songwriting, sound production, homemade videos and original costume designs. I can truly say these "sisters are doing it for themselves." – DAVE STEWART
The four sisters of SHEL create a compelling musical alchemy with their captivating harmonies and intriguing rhythms. Raised on an abandoned trailer park that the family restored and turned into a farm, the four sisters had an unconventional and imaginative upbringing in Colorado. From an early age they were fascinated by The Beatles and The Marx Brothers, an interest that their parents were eager to fuel with a collection of albums and films. A common dream grew between the group, and they began to form a synergetic band made up of four completely different individuals.