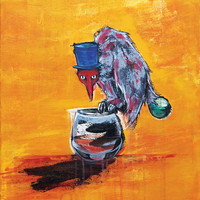 When you look up San Diego, CA's folk-rock band The Liquorsmiths on their social media pages, you'll see they make 'music for listeners,' how cool is that right? I don't know if The Liquorsmiths happen to know this or anything else about me…but I'm one of those! I listen! Pick me! Pick me coach! I wanna chance to listen to musicians that make music for listening ears like mine!
What was actually extraordinarily funny to me as well was that in looking this band up really quickly, my eyes glanced past the words 'punk-rock' before heading towards my playlist in search of the play button. Bracing myself as usual for an onslaught of punked-out guitars, frantic drums and bass that sounds like it was played from below the knees…all of a sudden my speakers decided to play 'folk-rock' which is…well…it's a lot easier on everyone isn't it?
Turns out The Liquorsmiths were making a point on their social media pages…they were saying 'folk-rock is the new punk-rock' and if you were to ask me, they're certainly right about that during the first half of this decade we're in. Folk-rock has been a dominating force out there with growing popularity and genuine music played with heart to justify the expansion. If anything, it's become a bigger sound than ever before; it now far surpasses the old vision of one dude & a guitar and in today's world often sees bands between 6-10 players all kicking out the folk-jams.
Glad I'm having a great start to this morning…Nature Ganganbaigal's EP earlier on was fantastic, and The Liquorsmiths seem to be carrying on that good vibe straight into the heart of my day. Which is a great thing incidentally…I'm sitting here writing this sweating one moment feverishly boiling hot, and the very next freezing cold on a day that I've got a million projects to get through. So to hear these easy-going rhythms and melodies is actually quite the welcoming comfort right now…let me tell ya.
What hit me first were some of the qualities that truly make this genre great. Opening up with "Coy" you get a wicked tale told through the lyrics…a drunken love-story that feels loose and tight all at the same time. Excellent delivery and performance that truly matches the energy and sentiment found in the lyrics; simple guitars and a clever jazzy drumbeat fuel this opener behind the words and additional keyboards give this first time a very invitational and warm feeling that pulls you in as they begin to amp-up their performance towards the end and let loose on the vocals into a sweet-folk madness.
The rhythm, melody and groove of "Get Well Soon" starts instantaneously and doesn't let go of its firm grip. Great rolling beat to this song as it rocks subtly along at an upbeat pace. Excellent tone through the lyrics and vocals once again…it would seem that our new friends in The Liquorsmiths have an excellent grasp of melody, song-writing and an honest indie sound. "Get Well Soon" has an incredibly authentic feel to it…you get a real sense that this music made by The Liquorsmiths has a strong connection with the musicians playing it; they feel it…and because of that, it becomes smooth & easy for you to feel it too.
"Iris' Song" might draw this band a little more towards the flavours of folk-rock you might be expecting slightly more than the rest with a familiar feel. Like a slow stumble through the night…the lyricism in combination to the waltzing music really adds that '4am last call' feeling to "Iris' Song;" each note is played with a passionate focus that again reveals the strong connection these players feel towards the music they make. Like Tom Petty in a free-fall, vocalist Drew Thams lets the music take him to wild places in this subtle folk-rock and really rises to some intense heights created through his own vocal flows in accompaniment to the music. A lot of times, like in "Iris' Song" his vocals largely dictate the melody and he's cleverly used his voice as that extra instrument or player in the band.
Clayton Payne and Ryan Fischer get a chance to steal the show on the following track, "Thief." Payne's precision instincts and sharp focus have the drums beating all over the place perfectly in this song and the added keyboards from Fischer give "Thief" all the right ingredients for the recipe of success. This smooth, slow-feeling, quickly-paced tune is a gorgeous indie-pop melody just as much as it is a folk-rock tune…but much of the music of The Liquorsmiths seems to ride that edge of their genre, crossing & spilling over into new terrain into which they quickly adapt into their sound. Payne lights this track up just past the two-minute mark with some exceptionally well-written parts for the drum-kit and plays them as perfectly as a person could ever hope for.
The opening swagger of "Devil I Do" sways so hard back & forth it is literally and audibly the musical equivalent of Johnny Depp as good ol' Captain Jack Sparrow. Drew lets his voice ring out beautifully in the chorus as he sings about destroying the devils we find in our lives; I can't express just what an incredible job he's done on this song…you can HEAR him breaking free of these demons that plague him as he belts out some extraordinary notes with emotion that really connects the words to the way he sings them.
What an innocent sound…what a pure-intentioned band…I'm really, really impressed with the folk-rock of The Liquorsmiths and I know that these are the kind of songs that will not only hold-up with me over time…but they're also the kind of songs that already have me looking forward to what else these guys might come up with in the future. I think there are a ton of ideas here that indicate this band could really do something interesting for the folk-genre…they have a real grip on the magic, freedom and wonder of music and their love of their craft shines brightly on This Book Belongs To.
As "Day By Day" ends the EP sweetly & loosely with that same focus & precision that really makes you wonder how it all gets pulled off sounding so right & tight overall…this last tune hits that sweet-spot as The Liquorsmiths let it all out one last time with another harmonious melody. I'd say for me…usually I'm about 50% confident going in to a folk-music album from a new band or artist…it's not always a genre that connects with me. What The Liquorsmiths are doing here on the This Book Belongs To EP really DOES make that connection…this is music that really resonates with me through the fantastic melodies they've created and the incredibly genuine style of which they perform with. These three guys truly own their folk-sounds with tremendous confidence…and through the haze of the bar-lights & empty whiskey bottles…The Liquorsmiths shine brightly with beautiful songs right till the very last call and it's time to stumble home.
Find out more from their official page at: http://www.theliquorsmiths.com
Find them on Facebook: https://www.facebook.com/theliquorsmiths
Jer@SBS – http://sleepingbagstudios.ca