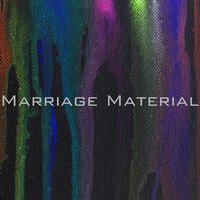 Pretty hard not to have a smile on your face while listening to this new EP from Marriage Material; this is extremely well-played and FUN throughout the whole distance of their new recording. Their sound will remind you of many relevant bands over the past decade like Peter Bjorn And John, The Submarines, Fences, Passion Pit, Faded Paper Figures…and if I can point our readers to a name I've mentioned many times, The Yellow Dress from the good ol' independent music scene.
Big drums from Matt McCarthy and right bursts of sound open up their self-titled Marriage Material EP with massively-invitational tones from the keys of John Lieneck and the playful bounce of the bass from Beck Goguen. Joined quickly by the sweet vocals of Chelsey Reynolds and this band is more than off and running in the opening tune "Fresh Air." That's a perfectly apt title; though elements of their sound do tend to remind me of a handful of bands that are current & relevant right now like Of Monsters And Men or The Head And The Heart…it's about the energy, passion and overall approach that Marriage Material is taking to their music that is easily setting them apart for me right now from the rest. I absolutely LOVE Chelsey's voice in this opening track…but truthfully that mix on the harmonies between them all is revealing a real magic in this band's music AND production. Blending perfectly together, Marriage Material starts this EP on completely solid ground; they've got me hooked from moment one – so let's see how the rest of these turn out!
"Hideaway" will pretty much convince you quickly the band is certainly capable of writing great songs. There's a push/pull of energy in this particular song that I'm not entirely sure works for me in terms of performance itself, but the parts they've written here are excellent once again. Lyrically, musically and matching vocal flow to their songs are definitely aspects of their music they've nailed down tight. In truth…I'm not even sure if I can put a finger on anything other than personal preference on this one; or maybe I can blame Chelsey for absolutely killing that first track "Fresh Air." If not for that stunning opening song's performance…I might not feel like this one has a little less wind in the ol' sails. She still captures perfect tones, and to be fair the song is more laid-back than the opener was…so again, could just be me looking for a little more punch to this performance through the vocals…
"Fresh Air"
https://www.youtube.com/watch?v=ymxnAbZqtQQ
The trade-off vocals in "We'll Talk Later" bring her right back out to where she belongs. Chelsey brings out a confident turn on the microphone, so full of tone that she nearly sounds like another synthesizer in Lieneck's keyboard rack. Presumably, with keys leading the way on "We'll Talk Later," I'd assume Lieneck is largely responsible for the writing on this song and also found a perfect way in through the vocals by creating that trade-off rhythm between the two. They contrast & harmonize perfectly together – something they've already demonstrated on the previous cuts; the more you hear it, the more perfectly fitting their sound together becomes. Lieneck incidentally…is punching holes in that keyboard he's kicking so much ass and having so much fun on "We'll Talk Later" – you can't help but hear how much this band enjoys making their music on a song like this.
The strongest rhythm & melody on this EP might come through "Triangles." This emotional tune creeps up on you in a sneaky way…it's subtle in its melancholy vibe. Once again they consistently nail the vocal harmonies and another confident Chelsey is taking the reins and leading the way with her inspiring tones and hopeful words. Another excellent keyboard melody created by John; and the rhythm section of Beck & Matt seem to always know exactly when to get involved and where the best spaces are for them to park in. Definitely a fantastic example of the modern-day ballad done indie-style…again, this band is writing some KILLER material that could potentially put them on the map, but with songs so strong they could translate to other bands and artists. There's no doubt at all in my mind – the core of Marriage Material would reveal them all to be song-writers that can truly make an impact through and through.
I can say this definitely of course, as all these reviews are done after multiple listens. So…SPOILER ALERT, or as the kids out there these days like to put it six months ago already, 'OBVS' – Marriage Material doesn't let up for a second on their EP and continue strongly to the end. Six songs of extremely high caliber – "Rise" is the second-to-last dose you'll get before this EP comes to a close. This song seems to harbour a little more atmosphere than some of the others have…feels a little more spread-out in sound and I think that works well for this band to keep on their path of diversity. I mean…if I had to cite a specific band they remind me of on this song it'd be Casiotone For The Painfully Alone, and OBVS I mean the songs that band got RIGHT and not the other 65% of their catalogue that I just try to like anyway… "Rise" is an ambitious tune, has a strong message and unifying, all-encompassing feel to the song by the end…almost like they put that extra space in their music on this song to fill it specifically with YOU and ME.
What am I to make of this final song, "Palace?" All of a sudden Chelsey just up and decides she'll show us that she's been in the league of Regina Spektor and Lily Allen all along? Truthfully, this one puts the spotlight on her with the vocals set up high in this final mix on the EP…but man does that pay-off better than you'd ever expect. This captivating singer really flexes her skills, ideas and delivery on this excellent ending to the EP in front of a band that's been ridiculously-tight throughout this album in all the best of ways.
There are some truly excellent things happening in Marriage Material…you can count on me listening for more from this crew in the future – I already want more!
Find out more about them from their official page: http://www.marriagematerialmusic.com/
P.S. One of my favourite things about listening to this EP was letting it repeat…I guarantee you'll get hooked on "Fresh Air." Incidentally – it's their first single from the EP!
JER@SBS – http://sleepingbagstudios.ca/