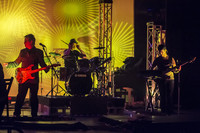 This will be the fifth article I've had the pleasure of writing for the group The Third International going back to 2012. From then to now, The Third International has not missed a beat and continues to rejuventate the music scene. With creative juices flowing and in full effect, The Third International has released a Promo DVD that is sure to attract attention as the disc is a sign of great things to come. This production was recorded live at the Darress Theatre in Boonton, NJ on October 18, 2014 where you could say lightning in a bottle was captured on this day.
The main force behind The Third International is Andrew Pearson who created a world that is both visually and musically appealing on this DVD. Pearson is responsible for the vocals, guitar parts, synthesizers and looping where he puts his unique twist on each and every song/video. Two other band members that helped bring this work of musical art to life include: Szabolcs Szenasi on drums, percussion & samplers and Enrique Mancia on bass & Moog. 'Live at the Darress' may just be an industry demo that's not available to the public BUT this Live production serves as a valuable precursor to what lies ahead for The Third International. As far as what this Live DVD is all about, Andrew Pearson explains why it's so beneficial and important to The Third International as they march forward. "The band is starting a residency in Bergenfield, NJ at a place called Tommy Fox's and we hope to get people out to see us on a regular basis and build the following. We are playing the second Friday of every month starting on September 11th, and plan on bringing the whole audio/visual presentation into a relatively small (150 capacity ) room. That's basically our M.O. Bring the theatre/concert presentation, and the studio audio, into an intimate setting and set the place on fire. This is a forum for us to showcase the band for college music directors, agents, reviewers, management and radio, as a precursor to serious touring," (Pearson). So, the true essence of The Third International approach is to hit you from all angles with visuals that will make your eyes dance and tunes that will make you stop, think and move. With catchy hooks, insanely original material and deep-rooted imagery & lyrics, 'Live at the Darress' is sure to be a real crowd pleaser.
"Formaldehyde"
http://k003.kiwi6.com/hotlink/499810lygj/Formaldehyde_122713.mp3
Right away when I pushed Play, I couldn't help but notice that the mood was set for the entire night with perfect stage lighting and eye-grabbing video images in the background. Not to mention the smoke machines were filling the air creating the ultimate Third International experience! Andrew's blazing guitar solos are heard throuhout the set as he masters the strings and sets the tone. Many of the songs/videos I heard contained hypnotic grooves that stuck to you like Gorilla Glue. For example, "Tracy's Blues" is a powerful potion of blues & pure emotion that hits you like a ton of bricks. Rolling along, a stand-out track/video would be "It Wakes, The Morning" that was inspired by a trip to the capital city of Istanbul, Turkey. The song/video signifies that feel of East meets West where that sense of real comraderie is heard loud & clear. "It Wakes, The Morning" offers inspriring and truthful concepts about living as One that we desperately need today. Time to Wake up and see the Morning in a different light with the help of The Third International. And be sure to SKOPE out the official YouTube video for "It Wakes, The Morning" RIGHT HERE:
(https://www.youtube.com/watch?v=ichM5tRorJk). On the song/video, "Toys", you get a real mover complete with funky bass lines that most certainly has fun and plays with your ear drums. I was even getting a little bit of a Who/Roger Daltrey influence from Pearson at times both musically & vocally. On "Formaldehyde", you'll hear a rockin' gem that stands out and you can listen to this cool 'n' hip song right here! The overall vibe on this Live DVD definitely includes heavy elements of Indie and Alternative Rock & Psychedelic Rock where I couldn't help but think of Pink Floyd, the masters of the slowed-down tempos. The Third International was without question tapping into a Pink Floyd-like atmosphere but done in a whole new way that is freshly inventive. The approach is killer and The Third International exerience is dynamite as 'Live at the Darress" is a sure-fire hit!
With a new album in the works called 'One Boy's Life in Vertical Illusion', Andrew Pearson himself excitedly proclaimed that "the quality has reached a whole new level". With that statement, I can't wait to see and hear what tricks Andrew & company have under their sleeves. If 'Live at the Darress' is an early indicator of what's to come from The Third International Wheel of Quality then prepare to be amazed & blown away!
http://www.thethirdinternational.com/
TWITTER: https://twitter.com/The_Third_Intl
FACEBOOK: https://www.facebook.com/thethirdinternational
5 Skopes
By Jimmy Rae + (jrae2@att.net)