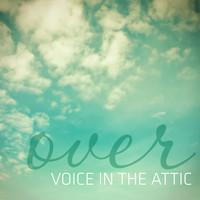 Voice In The Attic's "Over" speaks with wisdom. The chamber pop arrangements are pitch perfect, neatly weaving together elements of classical and folk. Forgoing any sort of electronic effects, Voice In The Attic has a timeless sound. By far the heart of the song is the powerful poetic vocals. Lyrically the piece feels rather mysterious, with a clarity that is explored throughout the piece. A sense of purpose, of finality, enters into the song giving it a bitter sweetness. There is a story that rests at the edges of the song as Voice In The Attic merely reflects upon this, as there is a new story that is about to take place.
Buy & Listen:
http://www.cdbaby.com/cd/voiceintheattic
http://voiceintheattic.bandcamp.com/releases
The song begins with elegant deliberate guitar work. From this quiet beginning comes the vocals whose breathy texture at times feels reminiscent of Tim Buckley's "Anonymous Proposition" with the same level of romanticism. Gradually the flourishes of piano and strings float into the mix. Change is quite subtle throughout the piece as the vocals serve as the focal point. Everything else orbits around the vocals which have a sense of acceptance of fate. With each additional passage the piece grows in terms of color and texture. By far one of the nicest elements has to be the strong cello work which helps give it an almost quiet, jazzy feel.
"Over"
https://www.youtube.com/watch?v=YwqnbCmTYl0
Reflection dominates the piece. Voice In The Attic chooses a quieter more patient path on "Over" showing off his impressive skill in creating an atmospheric, dreamy, and ultimately moving skill.
Posted by Beach Sloth