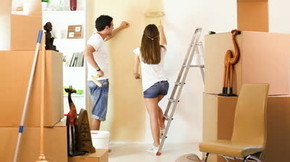 After having bought the apartment of your dreams in Mumbai, it is quite likely that you would be a little stretched for a handsome budget to do it up. To avoid a potentially explosive situation with the rest of the members of your family who could be harboring their own ideas of creating a splash with the home décor, here are a few tips that you could follow that will enable you to design a distinctive interior décor while saving substantially on the cost.
Planning Is the Key
Any home improvement project can assume unsurmountable proportions without the right planning, with the problem magnified due to the budgetary restrictions. You really do not want to get into a situation of having fallen in love with a couch with an enormous price tag or having ordered a cabinet online only to discover that it won't fit where you wanted in your newly acquired 3 BHKPrabhadevi luxury apartment. Before getting bogged down into micro issues, it is best to sit down with the rest of the family to decide on a basic style to be adopted. Home décor journals and internet resources can be a great help. After you've found your design inspiration, break your home décor project into specific components room by room; paint, flooring, furniture, accessories, etc. Do the rounds of the stores to get an idea of the variety that is available and what the costs can add up to. If you find the money available to be insufficient, scale back your requirements and add the missing parts later on.
Throw Out the Old or Not?
It might be extremely tempting to move into a new apartment with a completely new set of furniture, furnishings, and accessories. However, if you've got a budget that will not allow you to do that, take a hard look at the stuff you've got and you may be surprised to discover that there are quite a few pieces that only require re-finishing to become as new. If you are handy at this sort of a thing you can make it a DIY project, else see if you can locate a student who's studying interior décor and ask for her advice as that will be cheaper than hiring a professional interior decorator.
Make Every Piece of Furniture Count
When you've got a limited budget at your disposal, you need to prioritize your budget allocation. You should never compromise on quality of furniture as they will last for years and occupy the largest space in your home. Opt for furniture with clean and simple lines as they will never go out of style and will match virtually every décor style you will be adopting now and later. Once you have anchored each room with the largest pieces of furniture, you just need a few small elements more to get the room ready. Visit shops that sell used furniture and you may get lucky with some really fine pieces at bargain prices but make sure that you really require them and not buy them because they represent a bargain. Biggerpocket's guide on 2015 Mumbai property market carries some very interesting articles on furniture styles in vogue.
Use Color to Good Effect
Using paint is the most economical way of making a style statement with impact. Ensure you pick colors that you love but make sure that the shades are not too dark as they will absorb all the lights and make the interiors gloomy and small. You may instead apply a dark color on one wall, preferably the smaller surface as a contrast to the more neutral or pastel hues on the rest of the walls. Use photographs and other wall mounted accessories to good effect to highlight the wall but use restraint as clutter is to be strictly avoided. Provide adequate illumination for every room but experiment with mood or task lighting depending upon its relevance to keep energy consumption under control.