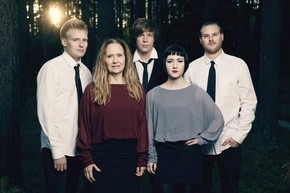 Hello to all fellow music loving people on this fine Friday morning. I am going on 4 hours of sleep and a Starbucks Double Shot so please bare with me. Today we travel all the way to Stockholm in Sweden to check out the music of VildirHeart. But before we do that how about some music news from our friends at mi2n.com. Westwood One and SoundHound Inc., a pioneering company in sound recognition and search technologies, and the makers of popular music and search discovery app, SoundHound, announced SoundHound for Radio, a mobile ad platform designed to give radio stations the ability to interact with listeners, brands, and advertisers. That sounds pretty cool and we all love to interact. In other news, Revelator, a cloud-based platform that provides an end-to-end sales and marketing intelligence service, has entered into a long-term partnership with CD Baby to provide immediate access to the Revelator platform for select CD Baby customers. Revelator's analytics tools will also be integrated into the CD Baby dashboard. Now lets get to Vildirheart. VildirHeart is a Stockholm based alternative-pop band (and family). The band features 3 Dietrichson's, Karin, Fredrik and Maia. I caught wind of this talented group after listening to their new album, "Send Me To the Lions." Join us today as we chat with Karin about merging family & music, the new album, their 5 year plan, and so much more!
Stoli: Where are we talking from today and are you excited for summer time?
Karin: At Hotel Avalon in a sunny and warm Riga, Latvia. Having a great time enjoying summer, yes! Also in Stockholm summer has arrived.
Stoli: Offer us a brief history on how you formed the band and what does the name, "Vildirheart" mean?
Karin: Me, Karin, bandleader, song writer, pianist and Mum, formed this band around 5 years ago, at that time called DANDELION. But soon we found out that the band name already was taken. So we changed it into VildirHeart which is a mix of languages: Vildir is an old Scandinavian version of the word "wild" and heart is a word easy to understand. We like the mix of languages, sometimes our lyrics are mixed. And it refers to being wild at heart, listening to the heart, following the heart and so on…Then we found our producer Daniel Kärn – the brother of Fredriks best friend at school from Swedish upcoming hard core band "Like Torches" and things worked well from the beginning.
Stoli: Are the five of you in the band all friends or is this all about the music?
Karin: I am the Mum, Maia the daughter lead vocals, Fredde the son, bass player and backing vocals, and Joakim guitars is a friend. Atm there is only 4 of us, since Stoffe recently chose to leave the band and focus more on other projects. It was a natural choice for me to ask Fredde and Maia, not because we are family, but more because they are quite talented and good musicians and singers, but ofc it is a good thing to be family and close, for example organizing rehearsals is very easily done. Since they were little, we performed together at family events. We found Joakim through mutual friends. After our 10 days tour in Slovakia this spring, we got more time to get to know each other which was great.
Stoli: What is life like in Stockholm and how is the music scene for performing live?
Karin: Life is awseome here in a creative atmosphere with talented song-writers and musicians everywhere, festivals and a lot of small places with venues to perform at.
Stoli: You have the album out "Send Me To the Lions." Offer us insight into how long you were writing & recording that album and how has the response been?
Karin: We started writing already back in 2011 after we had released the first album. It took plenty of time, a lot of writing-rewriting, then writing-rewriting again…etc. When it comes to lyrics – we work a lot, finding it very important having them good enough, before we start writing on the music, arrangements and recordings…. We recorded 5 songs first in 2012 and finished recordings in summer 2014.
It was important to make a progression after the first album and have the second one as cohesive as possible. The sounds may be more indie, I dont know, let the listeners decide….To find your own sound, as a band, is very important. We have had some radio plays in the US and the song "Dolphins Singing Along" is at local charts here in Sweden and Norway for 3 weeks now, so yes, it works well!
"Voices of Our Hearts"
https://www.youtube.com/watch?v=U8stfPIoTsU
Stoli: I really love the song & video for "Voices of Our Hearts" – youtube.com/watch?v=U8stfPIoTsU. Why did you choose that as the lead single and how does the video tell the story of the music?
Karin: It is about following and obeying a strong inner voice. As the guy running in the woods is doing, as are the little ballet dancers. We did some filming in the snow, maybe that is showing that no matter how hard and uncomfortable it can be sometimes – you still have to follow your heart and just dont give up your dreams…
We felt that the song would be good for a video when it is a little more up-tempo and not only ballad-like, as many of our songs turn out to be…
Stoli: Being that there are five of you in the group, how much time per week do you share making music and do you also have work/school/family as well?
Karin: As we are family the 3 of us, we meet a lot. But during the tour we spend a lot of time together all of us. Joakim and I are working together on some instrumentals/scores/film-music as well, so we meet for working on that project too.
Stoli: Where would you like to see Vildirheart in 5 years and any plans to come to the US/Canada?
Karin: We are discussing signing a contract with a small new record label here in Sweden and also a new tour in Europe. It would be awsome to go over-seas ofc!
Stoli: Right now the world is in a crazy but exciting place. When you wake up in the morning what gets you excited but also what makes you feel uneasy?
Karin: Looking at trees always make me feel well! There are so many beautiful miracles everywhere if you just open your eyes. Dont focus on troubles, make a choice not to. For me it is about spritual stuff also. I do some yoga…and being a believer is important to me. Trying to get some silence at least 5 min a day. I think listen to your inner voice is more and more important. Watching the news, for example about people trying to escape and rescue their families from war situations ending up on a stormy sea in a shitty boat – can be almost unbearable, so writing on songs is an important way for me to let feelings and thoughts out. Maybe a song can be helpful to someone out there somewhere one day.
Stoli: For those readers that are new to Vildirheart, what can you say for them to give you a listen?
Karin: Watch our videos on Youtube – they are representative of what we do. Order a copy of "Send Me To the Lions" at vildirheart@hotmail.se. And a tote bag :)
Stoli: What is coming up for Vildirheart and where you @ online?
Karin: We long to start writing on our next album, ideas are already in the making! In August we will spend a weekend together working on new material, maybe with a new drummer joining. In the mean time, listen to us on Spotify or Itunes, www.soundcloud.com/vildirheart-haninge and follow us on Facebook and if you want to: give us a like! Vote for our song "Dolphins Singing Along" at www.topplistan.eu.
https://www.facebook.com/pages/VildirHeart/205332768027?_rdr=p