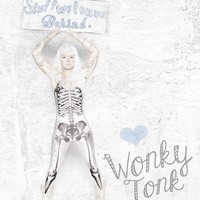 Jasmine Poole sings songs that celebrate togetherness. On "Stuff We Leave Behind" Jasmine Poole's songs express optimism as they observe the large and small events of live, from love to a party to moving forward. Throughout the album Jasmine Poole effortlessly combines elements of pop, country, folk, and even a little acappella. By exploring such a wide array of styles she creates her own unique voice through this process.
Audio:
https://soundcloud.com/wonky-tonk-music/sets/stuff-we-leave-behind
The album opens up with the unadorned pristine chorus of "Turn The Radio On". No additional accompaniment is necessary as their voices are full of power and passion. For "Cleveland" Jasmine Poole blooms into a full band sound with an undeniable sweetness. On "Billings, MT" a move towards dreamier textures helps to emphasize the sense of growing up that permeates the piece. Quiet and bluesy, "Tennessee" serves as the heart and soul of the album. By far the highlight of the album it is downright beautiful. With a careful calculated rhythm the piece is reflective upon the process of moving forward, away from the past and evermore towards the future. Storming by is the rollicking spirit of "Montague Road" that displays the band on full blast. Romantic in tone is the twee sensibility of "Parkland Avenue". Ending things on a high note is the quietness of "Keri On".
"Stuff We Leave Behind" has the right mixture of nostalgia for the past with optimism for an unknowable future.
https://www.facebook.com/wonkytonkmusic
Posted by Beach Sloth