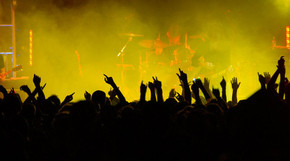 In the modernized music industry of today, the success of a band depends on more factors than ever before. It's no longer enough to just make good music – you have to know how to refine and market your sound, look, and overall artistic impression. How can an up-and-coming band make the biggest impact with their debut recording or live performance? What are some best practices for getting the word out?
Online Presence
Today, it is especially critical for bands to have a well-honed online presence. This shouldn't just include YouTube or any other, single website. Take a shotgun approach to this, and make sure your music is posted on sites like Bandcamp, SFX.IO, and Soundcloud, as well as on YouTube's competitor, Vimeo. Always be searching for places where you can host your music, especially for free. You never know where your fans might find you. Also, make sure you tag your music with searchable keywords representative of your style. Keywords are the most important identifiers for new fans finding you.
Create the Hype
If you're considering a debut performance or record release party, then you have got to get the hype started early on in the process. It's going to take weeks or even months to really communicate the details of the event to everyone who might want to attend, so set a date that is multiple months in the future. Remember that you want people telling their friends and their friend's friends, and the more time you allow for this to happen, the better the turnout will be. Get a newsletter going and start sending it every month, and then once a week as the debut date draws nearer. This increase in newsletter frequency will help keep you top-of-mind with your fan base.
A debut performance should be above and beyond. Find a venue that fits your style and fan base. It has to work with your sound, whether it's a simple outdoor concert in the park, a set in a local bar or coffeehouse, or a gig with a big vendor like a mall. Set up truss kits or a portable display booth system to house your sound and set the stage. Good atmosphere is key to a good start.
Follow Up
After all the hard work required just to make the debut event a success, there is yet more to do to make sure your impression remains indelible in the minds of those who experienced it. This means communicating your gratitude immediately after the event, either in a social media post or newsletter release. Remind your fans that they are the reason you are doing what you do; show them your appreciation at every turn and they will return the favor.
With the right amount of focus and creativity, a new band can use these tips to help ensure their debut is successful and allows for more success in the future.